Product description: Non-contact liquid level sensor - digital - DFRobot SEN0368
Manufactured by the companyDFRobotThe non-contact capacitive liquid level sensor is equipped with astatus indicator and the possibility of adjusting sensitivity. This product can be used to detect liquids in non-metallic containers or pipes(external diameter greater than 11 mm). Feedback on the status of the sensor takes place in real time. In addition, this sensor is equipped with a 4-pin adapter, which allows the direct collection of a digital signal, convenient for connection toArduinoor other microcontrollers. This product features a wide applicability in detecting liquid in a tank, water dispenser, etc. This non-contact liquid level sensor is developed with advanced signal processing technology using high-speed chip. The measurement is not affected by the thickness of the container walls, contamination and the presence of acids and alkalis.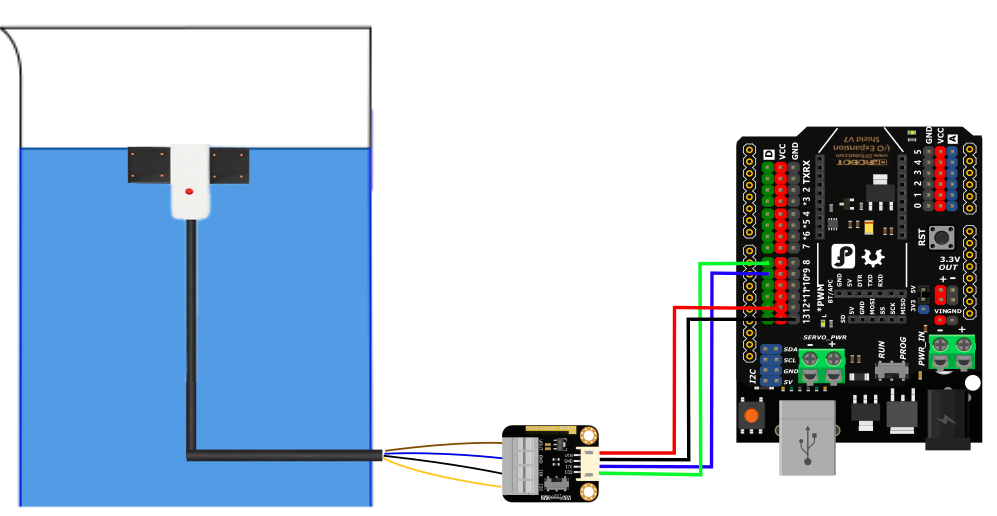 Arduino connection diagram.
| Number | Pin | Description |
| --- | --- | --- |
| 1 (left, brown) | VOUT | Liquid sensor power supply 5 V to 12 V |
| 2 (left, blue) | GND | GND |
| 3 (left, black) | IO1 | Liquid front/rear sensor output |
| 4 (left, yellow) | IO2 | Liquid level sensor signal output |
| 1 (right, red) | VIN | Power supply |
| 2 (right, black) | GND | GND |
| 3 (right, blue) | IO1 | Sensor output forward/reverse |
| 4 (right, green) | IO2 | Liquid level signal output |
Main product features
Suitable for use in all kinds of non-metallic tanks such as plastic, glass, ceramic and other containers.
Maximum wall thickness of the tank containing the liquid under test - 20 mm
Wide voltage range from 5 to 12 V, suitable for different circuits or applications
High stability and sensitivity
Sensitivity adjustment
Sensor status indicator
Stable performance and long lifetime
Resistant to external interference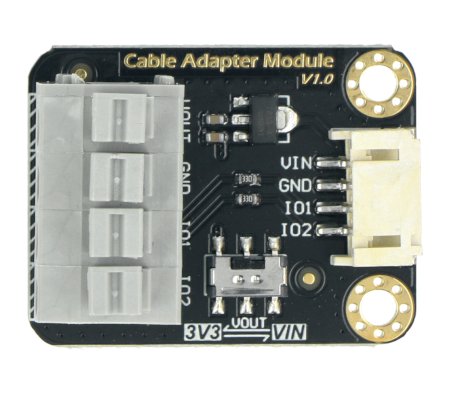 The sensor is equipped with a 4-pin adapter.
Specification for non-contact liquid level sensor
Power supply from 5 to 12 V
Response time 500 ms
Operating temperature: from -5 to 105° C
Suitable pipe diameter: up to 11 mm
Liquid level error: ± 1.5 mm
Material: ABS
Water resistance: IP65
The set includes
Non-contact capacitive sensor x1
Gravity: 4-pin sensor adapter x1
Screwdriver x1
Black cable tie x1