Description of product: Iduino sound sensor - microphone
Module with microphone the detects sound.Voltage supply range from3.3 V to 5 V. It has two outputs: ananalog- to measure the intensity and a digital- changing state when exceeding a certain level.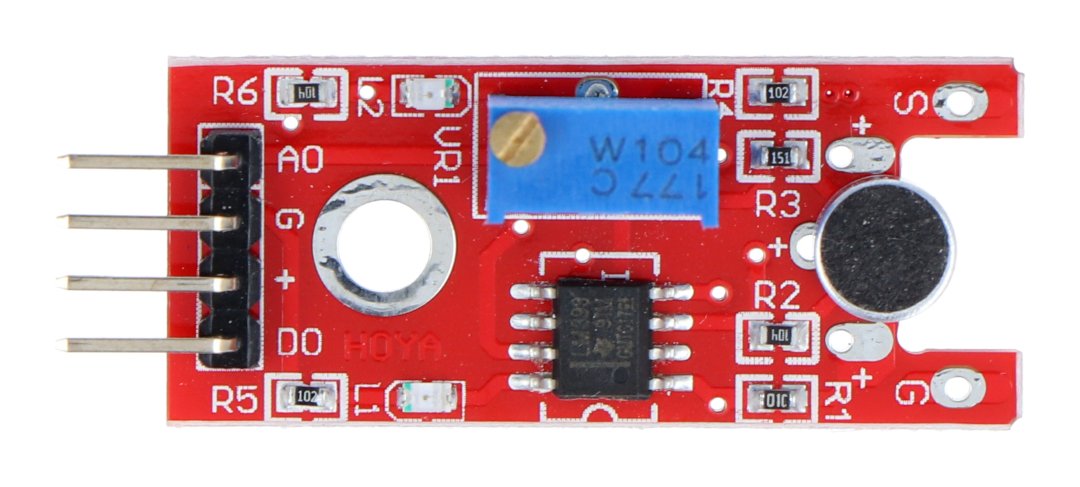 Inputs of sound sensor
The device has a 4-pin connector. The output signal can follow, for example, to the digital inputof the Arduino module.

'
Connection example with Iduino Uno
| PIN | Description |
| --- | --- |
| A0 | The output of the analog signal. |
| G | The fround of the system. |
| + | The supply voltage of 5 V. |
| D0 | The output digital signal. |
Specification of sound sensor Iduino
Supply voltage: from 3.3 V to 5 V
Digital or analog output signal
One mounting hole diameter 3 mm
Built-in potentiometer for adjustment of trigger level
Frequency range: 50 Hz to 20 kHz
Resistance: 2.2 kω
Sensitivity: from 48 dB to 66 dB
Operating temperature: -40°C to 85°C
Operating humidity: 30% to 90%
Storage temperature: from -5°C to 30°C
Storage humidity: 20% to 75%
Module dimensions: 43 x 15 x 10 mm
Weight: 4 g