Product description: 24V/10A PWM/USB motor driver - DFRobot DRI0050
DC motor or LED strip driver, controlled via PWM interface. The driver allows you to adjust the speed of the DC motor or the brightness of the LED strip via the microcontroller's PWM interface or UART via the USB port, as well as manually using a potentiometer. The device supports an input voltage of 5 V to 24 V and a load of up to 10 A, and can control a 50 W motor and an LED strip of about 5 m in length. It can be used to control the amount of water flow, control fan speed, adjust light brightness, etc.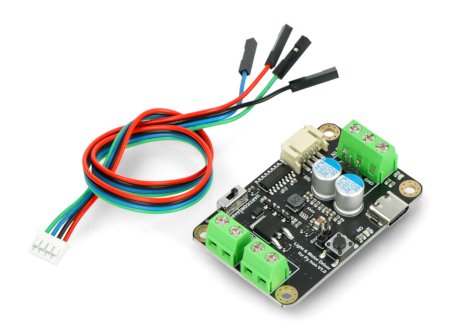 Driver for motors and LED strips, cable included.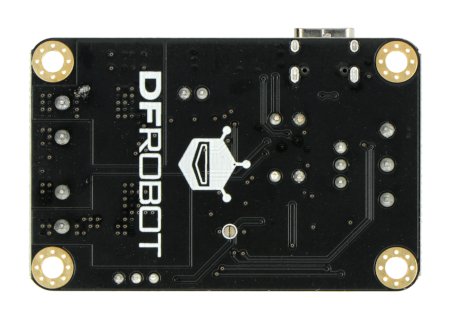 DC motor driver DFRobot.
Main features of the motor driver
Easy to use. Programming in Python, no motherboard or adapter required.
Plug and play. Windows software, no programming required.
Control via UART. Convenient for long term use of embedded hardware.
Control via external potentiometer. Manual control, no programming required.
Standard MODBUS protocol. Public protocol, you can flexibly customize your own control method.
Wide voltage range from 5 V to 24 V. Suitable for a wide range of motors and LED strips.
Supported by transistor which supports up to 10 A load.
Controller module pinouts
The module is equipped with numerous communication protocols. It can be controlled through a UART interface using a microcontroller such as an Arduino. USB type C port allows to control it using PC software. A three-pin port allows connection of an external potentiometer to manually control motor speed or LED bar brightness.
Motor driver specification
Input voltage: 5V to 24V
Maximum current: 10 A
PWM duty cycle adjustment range: 0 to 255
Frequency regulation range: from 183 Hz to 46875 Hz
Number of PWM channels: 1
Start/stop button: 1
Control type:

external potentiometer
UART communication
USB port
Python

USB interface: USB type C
UART interface: 4-pin PH2.0
External potentiometer interface: 3-pin 2.54 mm connector
Mounting hole size: 30 x 50, 3.1 mm diameter
Board dimensions: 37 x 57 mm