Product description: SenseCAP S2101 - temperature and humidity sensor - LoRaWAN - Seeedstudio 114992867
The SenseCAP S201 temperature and humidity sensor uses the LoRaWAN and Bluetooth long-range wireless communication protocols for communication. The industrial class module has been enclosed in an IP66 housing, it allows you to measure temperature in the range from -40°C to 85°C and humidity in the range from 0% to 100% RH . Durability and long battery life ensure low maintenance costs of the module. The built-in Bluetooth chip allows OTA configuration and remote device management.
Main features of the SenseCAP S2101 sensor
Simple Setup : The framework allows users to complete setup in four steps without having to write any code by hand.
SenseCAP mobile app : The sensor is supported by the SenseCAP Mate app.
Minimal maintenance cost : the sensor is enclosed in a sealed IP66 housing, configurable via Bluetooth and equipped with a 19 Ah battery.
Compatible with worldwide LoRaWAN networks: Works with various types of LoRaWAN gateways and multiple LoRaWAN network servers (Helium, TTN, etc.) to enable fast connection to local LoRaWAN networks.
High Performance Guarantee : Passed rigorous reliability testing to ensure high performance and long life.
Easy setup of the temperature and humidity sensor
The SenseCAP S2101 Temperature and Humidity Sensor provides scan and playback capability, allowing users to complete the entire setup in 4 simple steps. The module is friendly for people with limited technical background, it allows you to avoid time-consuming configuration to quickly start measuring humidity and temperature.
Download the SenseCAP Mate app
Connect to the sensor via Bluetooth
Set parameters:
Platform and frequency plan
uplink interval
EUI and key
Data from the sensor will be available in the application and web portal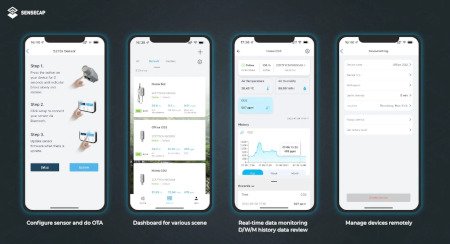 SenseCAP Mate mobile app.
SenseCAP Mate mobile app
SenseCAP Mate is a powerful tool that allows you to view data on a user-friendly interface, while checking the status of devices via Bluetooth communication. The user can set thresholds (focus on the data they need to take action on), intervals (improve battery performance) and set alarms if the data read is outside the safe range.
Minimum maintenance cost
The SenseCAP S2101 sensor data can be transmitted up to 2 km in urban areas and up to 10 km in rural areas, while maintaining lower power consumption during data transmission. Remote monitoring via Bluetooth can also benefit from large-scale deployment, it provides the greatest efficiency by saving time and labor needed to deploy and manage devices. A replaceable battery that lasts up to 10 years of use and an industrial IP66 housing that can operate in temperatures ranging from -40°C to 85°C and harsh environmental conditions meet the demand for industrial IoT solutions based on LoRaWAN.
Wireless data transmission within the range of up to 2 km in urban areas and up to 10 km in a straight line, without interference.
Bluetooth communication for quick configuration of the device via the application.
IP66 protection class.
Ultra low energy consumption. The battery lasts for 10 years of using the sensor.
Humidity and temperature sensor.
Compatible with worldwide LoRaWAN networks
SenseCAP works with various LoRaWAN networks, offering multi-server connectivity and extensive integration with IoT platforms. The manufacturer has prepared a user guide from which you will learn more about the separate network architecture when choosing different LoRaWAN network servers and platforms.
High performance guaranteed
SenseCAP S210x sensors passed 6 reliability tests prior to launch and met the requirements to operate in extreme environmental conditions. The manufacturer shall ensure that the performance and durability of the sensors comply with their specifications throughout their life cycle.
Using the SenseCAP S2101 sensor
Animal breeding. Air quality is closely related to the proper development of animals, especially in some relatively enclosed spaces such as a barn or shed. If the environment is stale and has too high/low temperature or humidity, all kinds of diseases can develop in it.
Greenhouse. Air temperature and humidity are two important factors in photosynthesis that can indicate the state of greenhouse ventilation and plant evaporation and transpiration.
Air quality monitoring in the office and at home. IAQ (indoor air quality) is strongly related to health and well-being.
Cold stores and warehouses. Incorrect temperature and humidity can cause serious damage to stored products.
SenseCAP S2101 sensor specification
Temperature:

measuring range: -40°C to 85°C
accuracy: ± 0.2°
resolution: 0.01°C
long-term drift: < 0.03°C / year

Humidity:

measuring range: from 0% to 100%
accuracy: ±1.8%RH
resolution: 0.01%RH
long-term drift: < 0.25% RH

Model: S2101
Microcontroller: Wi-E5
Protocol Supported: LoRaWAN v1.0.3 Class A
Built-in Bluetooth: parameter change via app
LoRaWAN Channel Plan: IN865 / EU868 / US915 / AU915 / AS923 / KR920 / RU864 (supports 7 plans)
transmission power: 19 dBm
Sensitivity: -136 dBm for SF12 BW = 125 kHz
Communication range: from 2 km to 10 km (depending on the terrain)
Sealing class: IP66
Operating temperature: -40°C to 85°C
Operating humidity: 0% to 100% RH
Battery life: 10 years
Battery capacity: 19Ah
Battery type: standard size D SOCI2
Probe length: 5 m
Weight: 280g
Kit contents
SenseCAP S2101
Handle
Self-drilling screws KA 4 x 20 mm
Quick User Guide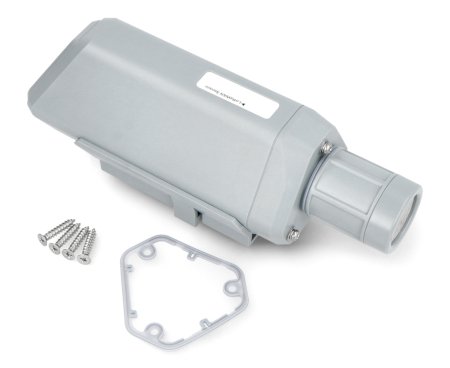 Kit contents.
‌