Product description: Odroid M1 - minicomputer with Rockchip RK3568B2 processor + 4 GB RAM
The Odroid M1 minicomputer is based on the energy-saving and efficient quad-core Rockchip RK3568B2 Cortex-A55 chip and the Mali-G52 graphics processor. The board is equipped with 4 GB of RAM and a connector for eMMC memory and microSD cards , Ethernet, HDMI and USB 3.0. An efficient heat sink is mounted on the bottom of the board, which helps to cool the entire system during operation.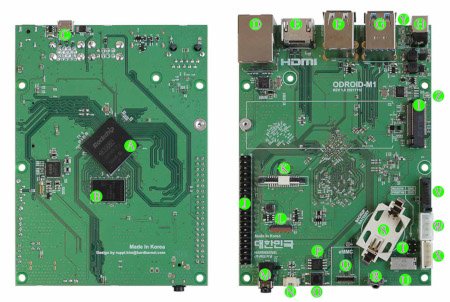 The arrangement of elements on the Odroid M1 board.


Our offer also includes other Odroid modules, memory cards for the board and other useful accessories. Check!
The arrangement of elements on the board
Rockchip RK3568B2 processor
LPDDR4 RAM
Micro USB 2.0 port
RJ45 Ethernet port (10/100/1000 Mb / s)
HDMI 2.0
USB 2.0 port x2
USB 3.0 port x2
DC jack for DC power supply
M.2 NVMe M-Key PCIe3.0 2-lane
GPIO x40 pins
MIPI CSI 2 Lane
MIPI DSI 4 Lane
3.5mm headphone jack
Mono speaker output (1.3 W into 8 Ω load)
SPI recovery switch
SPI Flash 16 MB
EMMC module socket
Infrared receiver
RTC battery holder
Reset jumper and power jumper
MicroSD memory card slot
SATA3
SATA power (5V only)
UART for the system console
System LED indicators x2
M.2 LED indicator
Programming M1
The Petitboot program has been installed in the SPI flash memory of the Odroid M1 minicomputer, which helps to easily and quickly manage different versions of the operating system and supports booting the system from microSD, eMMC, NVMe, SATA and USB mass storage. In addition, since it is possible to install the operating system online via the network, the complicated procedure of downloading and flashing the operating system image has been greatly facilitated.
Machine learning
The Odroid M1 is equipped with a Neural Network Processing Unit (NPU) that provides up to 0.8 TOPS. Various TensorFlow Lite and ONNX models can be run on the Ubuntu Linux operating system.
Additional storage
The Odroid M1 board supports mass storage in the form of M.2 NVMe disks with dimensions of 22 mm x 80 mm. The M.2 connector has a 2-lane PCIe 3.0 configuration that provides fast sequential access with a capacity of 1600 MB / s. Minicomputer does not support M.2 SATA memory! M.2 slot only supports PCIe (M-Key) interface.
Odroid also has a single native SATA 3.0 port (not USB), which allows you to connect a 2.5 "hard drive or SSD NAND storage device. The SATA interface provides sequential access speed of almost 500 MB / s. To use 3.5" a separate external 12 V SATA power supply is required for the hard drive.
Housing designed for the M1
In our store's offer you will also find a dedicated housing prepared with the Odroid M1 in mind. It has an elegant appearance and at the same time provides protection against mechanical damage and dirt. At the same time, it is extremely efficient - it effectively gives off heat from the board when the minicomputer is heavily loaded. The housing is blue and made of metal. It has a structure that allows it to be securely attached to the heat sink frame of the minicomputer. The front and rear covers are made of gold-plated printed circuit boards.
Technical specification of Odroid M1
Processor: Rockchip RK3568B2

L1 instruction cache: 32 KB, 4-way association, 64 bytes of lines, shared by 1 processor
L3 data cache: 512KB, 16-way association, 64 bytes line, shared by Quad-Core Cortex-A55 processor (1.992 GHz)
ARMv8-A architecture with Neon and Crypto extensions
Mali-G52 MP2 graphics processor with 4 execution engines (650 MHz)

NPU :

0.8Tops / INT8, integrated high-performance AI RKNN NPU accelerator
Supports Caffe / TensorFlow / TFLite / ONNX / PyTorch / Keras / Darknet switching

Memory:

4 GB LPDDR4 with 32-bit bus
Data transfer rate: 3120 MT / s to 1560 MHz

Networking:

1 x eMMC slot
1 x Micro SD slot (DS / HS mode for UHS-I SDR104)
1 x NVME M.2 SSD (PCIe 3.0 x 2)
1 x SATA3.0

Network:

GbE LAN port (RJ45 10/100/1000 Mb / s)

Realtek RTL8211F (Ethernet transceiver)
Led

Green LED: Flashing by data traffic on 100Mbps connection
Amber LED: Flashing by data traffic on a 1000Mbps connection

Video:

HDMI 2.0 (up to 4K @ 60Hz with HDR, CEC, EDID)
MIPI DSI (works with 800 x 1280 LCD)

Audio:

HDMI digital output
3.5mm jack connector
Mono speaker output

External I / O ports:

2 x USB 3.0 ports (or 1 x USB 3.0 host + 1 x USB 2.0 OTG port)
2 x USB 2.0 port
UART (Debugging)
SATA
MIPI-CSI camera interface
MIPI-DSI LCD interface
40-pin GPIO connector

Other functions:

IR receiver
RTC and backup battery holder
LED diodes:

Red (PWR) - Steady light after connecting the power supply
Blue (ALIVE) - Flashes while the kernel is running

Power supply:

DC jack: 5.5mm outer (-) diameter, 2.1mm inner (+) diameter
DC input: 7.5V to 15.5V (DC 12V / 2A power adapter recommended)
Energy consumption:

IDLE: 1.25W
CPU load: approximately 4.44 W

Board dimensions: 90 x 122 x 16 mm
Heatsink dimensions: 100 mm x 123 mm x 19 mm
Weight: 253 g