Product description: Micrometer with digital display Yato YT-72305 - 0-25mm
Micrometerwith digital display. Allows you to precisely determine the size of even very small objects. Thanks to the display, which the device is equipped with, readingthe measurement is very quick and easy, whichallows you to optimise your work.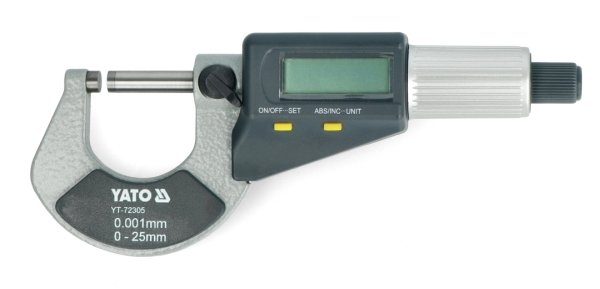 How to take measurements with the Yato YT-72305 micrometer
Before starting the measurement:
Clean the measuring surfaces and the guide bar, preferably using a cotton cloth. The use of solvent or any kind of acids is not recommended.
Check the operation of the display and any buttons and switches
Check the zero position by contacting the measuring surfaces by turning the friction clutch knob only and then pressing and holding the "ON/OFF-SET" button for approx. 2 seconds until the display is reset.
Absolute measurement:
Loosen the retaining clamp
Start the device by pressing the "ON" button and then select the measuring unit by pressing and holding the "ABS/INC-UNIT" button for approx. 2 seconds until the "ABS" symbol appears in the display
Spread the measuring surfaces at a minimum distance from the object to be measured
Then, by turning the knob of the stem, set the kerf, continue tightening by turning the knob of the friction clutch and finish tightening when the clutch engages.
Read the dimension from the display
Relative measurement:
The principle of measurement corresponds to the method described above, but relative measurement allows comparison of two dimensions
After pressing the "ABS/INC-UNIT" button, the display will be reset to zero and the "INC" symbol will appear on the display. After the next measurement, the difference in dimensions can be read out.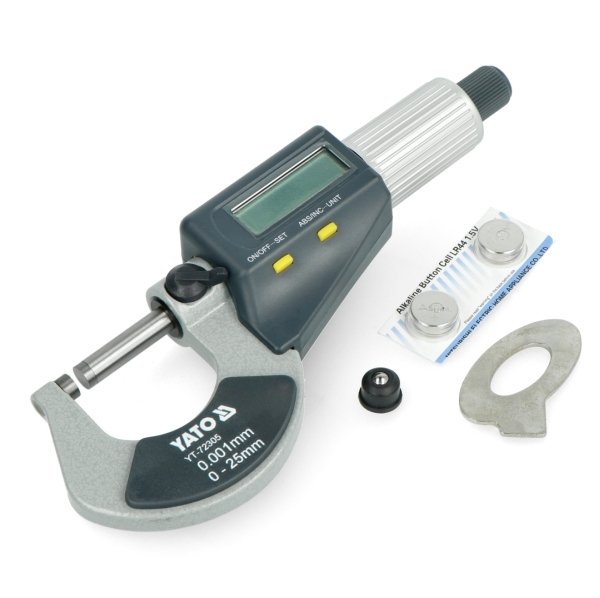 Micrometer specification Yato YT-72305
Measuring range: 0 to 25 mm
Resolution: 0.001 mm
Accuracy: ± 0,002 mm
Measurement force: 5 to 10 N
Display: Liquid crystal LCD
Power consumption: ≤ 35 μA
Power supply: one 1.55 V silver battery, type SR44
Operating temperature: 5°C to 40°C
Storage temperature: -20°C to 60°C
Influence of humidity: no significance below 80% relative humidity