Product description: Lipo Charger - charging module for Li-Pol batteries via microUSB - DFRobot DFR0667
Integrated charging moduleLipo Charger from DFRobot. It is designed to charge one3.7VLi-Polbattery cell. The small size allows the module to be used in many scenarios and applications. The charger has a built-inTP4056Xchip, which makes chargingfastandsafe. The module allows you to adjust the power parameters to your individual needs - it is possible to set up to three charging modes:50 mA,200mA and500 mA(default 50mA).
Technical specification of the module
Type: charging module for Li-Pol battery
Connector: microUSB
Built-in circuit: TP4056X
Input voltage: 5 V
Charging current: 50 mA / 200 mA / 500 mA
Limited charging voltage: 4,2 V ± 1%
Operating temperature range: from -40°C to 85°C
Module dimensions: 16.5 x 25 mm
Lipo Charger - how to use
Connect the Lipo Charger module to an external power source via themicroUSBport. There is anLEDon the module to indicate the operating status:flashingwhen no battery is connected;onwhen a battery cell is connected;offwhen the battery is fully charged. In addition, you can connect an extraexternal indicatorto continuously check the charge level of the cell. Charging is possible in three modes:sustainedcharging,direct currentcharging anddirect voltagecharging. The user can also choose thecurrent value, but the choice must take into account the capacity of the battery being charged:
from 100 mAh to 400 mAh - 50 mA
400 mAh to 1000 mAh - 200 mA
> 1000 mAh - 500 mA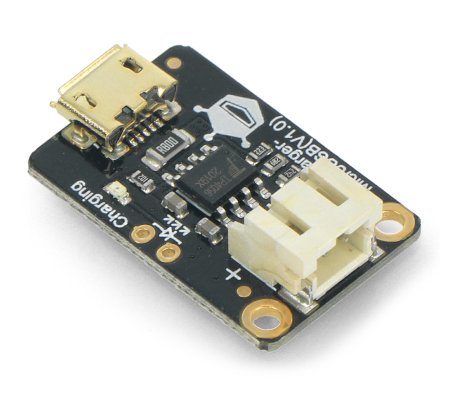 The integrated Lipo Charger from DFRobot has a selectable charging current level.
Attention!
The low current mode can be used to charge a high capacity battery, but the high current mode cannot be used to charge a low capacity battery. The battery may explode if the charging current is too high.