Product description: Digital atmospheric pressure sensor - barometer - BMP280 - I2C - DFRobot SEN0372
Digitalatmosphericpressure sensor manufactured by DFRobot. It has an integratedBMP280chip from Bosch. The module integratestemperatureand atmospheric pressure - barometer sensors, including altitude. It is used to improveGPSpositioning or to realize 3D navigation in rooms withIMUsensor. Application of BMP280 chip makes the sensor small, compact and withlow power consumption. Measuring range for temperature isfrom 0°C to 65°Cwith an accuracy of +/- 0.01°C and for atmospheric pressurefrom 300 hPa to 1100 hPa with relative measurement accuracy of +/- 0.12 hPa.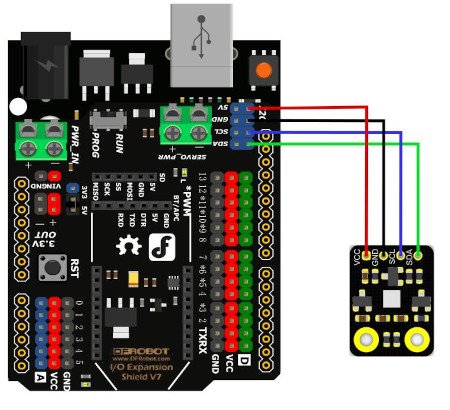 Example of sensor connection usingDFRduinoboard, Arduino equivalent. The board is not a part of kit, you can buy it separately in our shop.
Leads description and example connection diagram
The module hasleadsin the form of solderfields, to which you should solder includedgoldpin connectors. Connect thesensorto the microcontroller module according to the following description:
VCC- power supply pin within the range from 3.3 V to 5.5 V
GND- system ground
SCL- I2C interface clock line
SDA- I2C interface data line
ADDR- I2C address selector jumper
Technical specification BMP280 sensor
Module: barometric pressure and temperature sensor
Integrated circuit: BMP280
Input voltage range: 3.3 V to 5.5 V
Communication interface: I2C bus (5 V supported)
I2C interface address:

default: 0x76
alternative: 0x77 (changeable via ADDR jumper)

Temperature measurement range: 0°C to 65°
Accuracy of measurement: +/- 0.01°C
Range of pressure measurement: 300 hPa to 1100 hPa
Relative measurement accuracy: +/- 0.12 hPa (+/- 1 m)
Absolute measurement accuracy: +/- 1 hPa (+/- 8.33 m)
Module dimensions: 18 x 11.5 mm
Mounting hole:

hole position: 13 mm
internal diameter: 2 mm
external diameter: 3.7 mm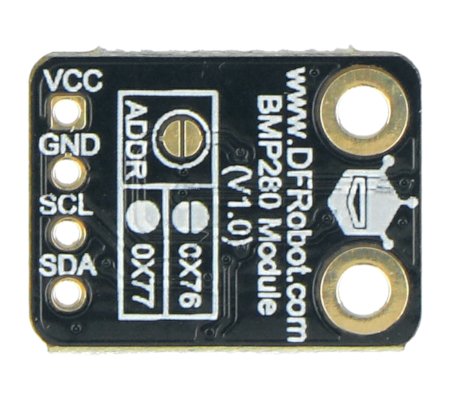 Sensor with integrated BMP280 chip.
Suggested use
Temperature detection
Pressure measurement with elevation
Indoor navigation (floor detection, elevator detection)
Outdoor navigation, leisure and sports applications
Vertical speed indication (e.g. ascent/descent speed)
Set contents
Digital air pressure sensor - barometer - BMP280
Gold pin strip 1x4 - 2,54 mm pitch
In our assortment you will also find otherenvironmental sensors. We invite you to familiarize with the offer.