Product description: SparkFun Qwiic adapter DEV-14495
The Qwiic adapter fromSparkFunprovides an ideal way to convert a regularI2Cbus into a board with a Qwiic connector for simple connection. The adapter hastwo Qwiic connectorsandI2C holesfor self-soldering goldpin pins from any module equipped with I2C communication line. The Qwiic adapter board is equipped with Qwiic communication ports, all with the same I2C bus. Four holes with SCL, SDA, 3V3 and GND pins. With these pins you will turn a standard I2C bus into a board allowing seamless Qwiic connection.
The manufacturer provides auser guideto get you started with the SparkFun Qwiic adapter.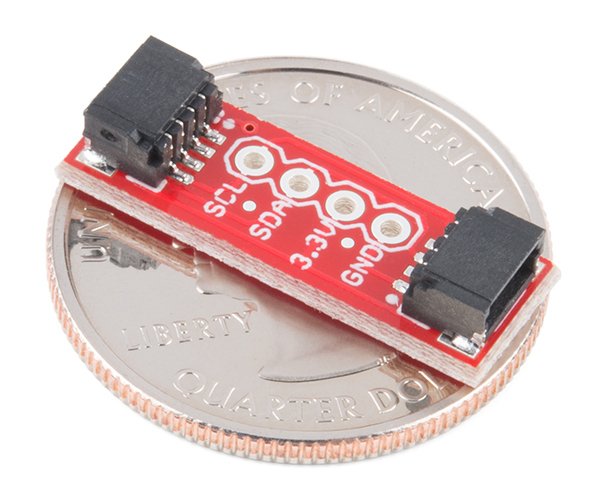 SparkFun Qwiic adapter, a module with two Qwiic connectors and I2C bus openings.
SparkFun Qwiic connection system
TheSparkFun Qwiic interconnect system is an ecosystem ofsensors, actuators, overlays and I2C cables for simple and fast, low-error connectivity. All boards equipped with the Qwiic connector feature a4-pinJSTconnectorwith a1 mmpitch. Thanks to this solution, the connector does not take much space on the board and prevents from reverse connection of the plug, minimizing the risk of error when connecting the wires.
SparkFun Qwiic adapter specifications
Number of connectors: 2
Connector type: Qwiic
Routed I2C slots
Connector: JST
Pin count: 4
JST pin pattern: 1 mm
Hole Raster: 2.54 mm
Pinout: SCL, SDA, 3.3V, GND