Product description: Case for Raspberry Pi 400 - grey
The cover is designed forRaspberry Pi 400, it helps to keep the keyboard clean and avoid dust. At the same time, it provides protection from scratches during travel. The material does not protect against major impacts or liquids. Whether you're taking your Raspberry Pi 400 to school, friends, or just putting it away, a protective case is the best way to protect your device from dust and scratches. The case is made of a classicgray materialwith a simple Velcro strap to keep the Pi 400 from slipping out. It featuresThe Pi Hutlogo embossed on the bottom corner. The dimensions of the product are 323 x 170 x 8 mm.The kit does not include the Raspberry Pi 400.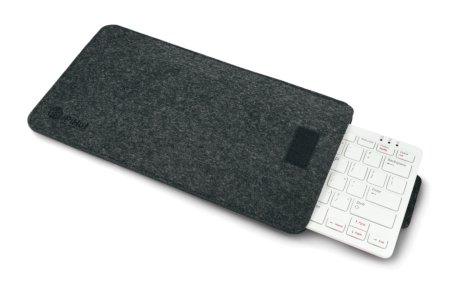 The sale item is the case,Raspberry Pi 400 can be purchased separately in our store.
Specification of the cover
Manufacturer: PiHut
Color: grey
Material: felt
Closure: sewn in velcro strap
Application: protection against scratches and dust
Product dimensions: 323 x 170 x 8 mm