Product description: Housing for Raspberry Pi CM4IO - black transparent open
The enclosure forRaspberry Pi CM4IOis made of acrylic. The walls are 3mm thick. The enclosure consists of two parts mounted with included screws and spacers. The sides of the casing are open to allow access to all connectors and proper ventilation. It is also equipped with non-slip feet. After folding the case dimensions are160 x 90 x 31 mm.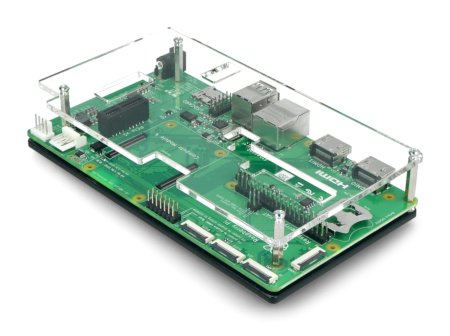 Housing for Raspberry Pi CM4IO - transparent open.

The subject of sale is the case itself together with assembly elements.Raspberry Pi CM4IOcan be purchased separately.
Housing specifications
Top panel color: clear
Bottom shell color: black
Housing compatible with Raspberry Pi CM4IO
Material: acrylic
Wall thickness: 3 mm
Dimensions of the case when folded: 160 x 90 x 31 mm
The product is covered with a protective foil which protects against scratches during transportation. The protective foil must be removed from the enclosure before assembly. The foil can be blue, green, white or colourless.