Description
Touch screen, capacitive 5" for minicomputerRaspberry Pi. Display resolution 800 x 480 px. Touch screen supports up to 5 touches at once. Powered through connector for DSI Raspberry, does not need external power source.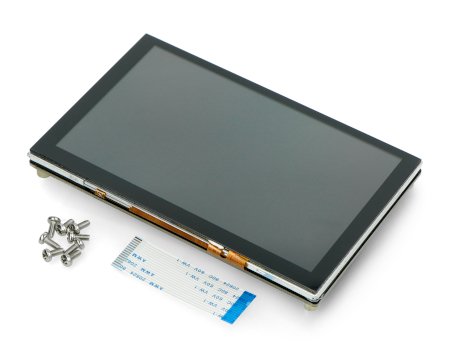 The screen requires no external power source, it feeds through the DSI connector on a Raspberry Pi. The display has a backlight adjustment using the potentiometer located on the rear panel.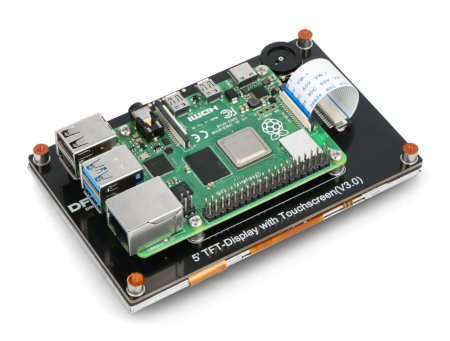 Attention!
Supplier recomended using a copper distances between Raspberry and screen while using a Raspberry Pi 3 A+.
Specification
Working voltage: 3.3 V
Maximum current: 320 mA
The strength of the current when the screen is off: 100 mA
Interface: the DSI Raspberry Pi
Resolution: 800 x 480 px
The number of touch points: 5
Viewing angles: 60° / 70° / 70° / 70°
RGB888-16 Mega True Color
Refresh rate: 60 Hz
Luminous efficiency: 280 CD/m2
Operating temperature: -20 °C to 70 °C
Dimensions: 121 x 76 mm
Mounting holes: M2,5
Outer distance between the mounting holes: 113 x 68 mm
Inner distance between the mounting holes: 58 x 49 mm
Set includes
1x 5" screen with capacitive touch
Cable FFS 45 mm, raster 1 mm 15-pin
8x spacer M2,5
8-screw M2,5