Description
The RFID identifier in the form of a plastic card with the size of a payment card. Each chip has a unique 32-bit code. The device works at a small distance from the reader, it has 1 KB of EEPROM, the carrier frequency is 13.56 MHz.
Specification
Type:

ISO14443 Type - A - MIFARE

1 KB of non-volatile EEPROM memory
Durability:

100,000 records

Carrier frequency: 13.56 kHz
Operating distance: up to 5 cm from the reader
Operating temperature: -10 °C to +75 °C
Dimensions: 85.5 x 54.0 x 1.0 mm
Weight: 6.3 g
Set contains 10 PCs of cards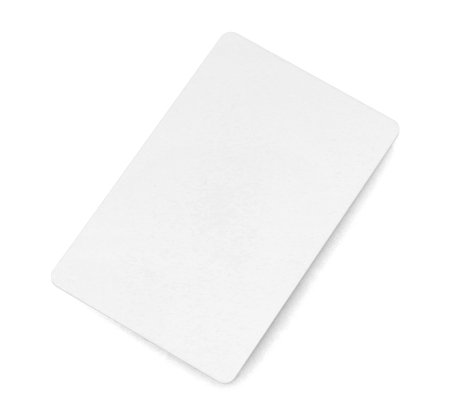 See also available RFID readers operating with Arduino and Raspberry Pi.