Description
Set for creating a robotic arm for thePololu Romi chassis. The arm is equipped with 3 servos toadjust the height of the gripper, control over it and the gripper's blades. They are all specially modified, providing access to a feedbackpotentiometerthat allows you to control all three compounds.
The arm allows you to pick up small items. The set includes a gripper for lifting objects with width of up to 32 mm, arms supporting the gripper, and a platform for installation.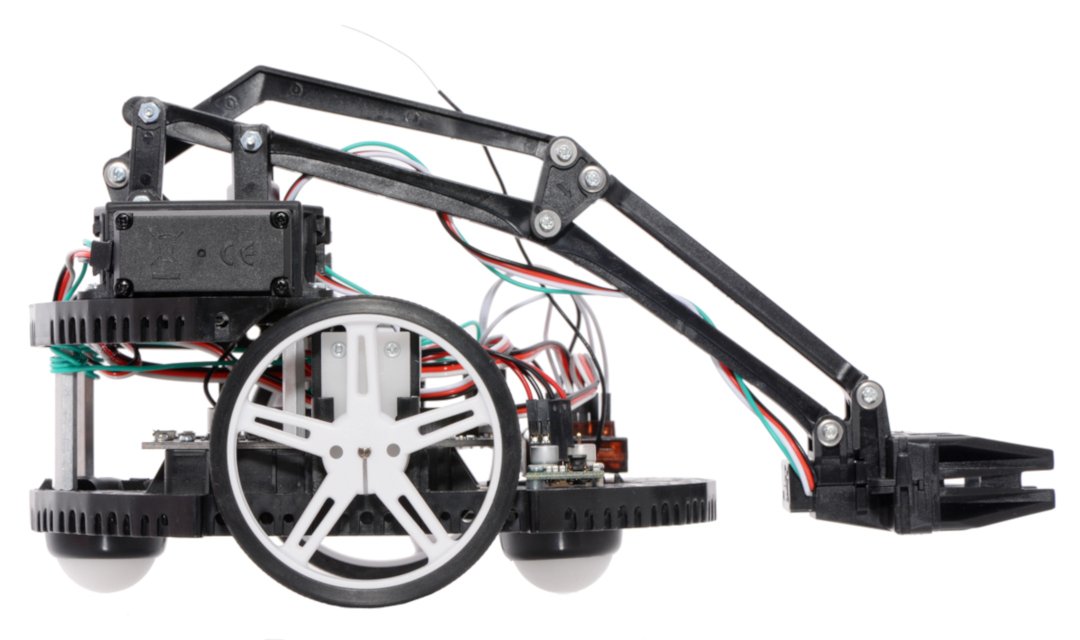 The subject of the sale is only the set for building the arm, the other elements can be purchased separately.
Romi arm is mounted on the rear half of the chassis, above the motors with the help of aluminum spacers. Two standard servos located at the base of the manipulator control the height and tilt angle of the gripper, micro servo fits inside the gripper, driving its blades. More servos can briefly operate witha maximum current of 1.8A, but the typical current consumption should be below those of any amplifier. Micro servo's current is about0,8A at 6V. All three servos are powered by the voltagefrom 4.8 V to 6 V, can be powered from a battery or an external power source.

The ranges of motion of the robotic arm.
Gripper can be mounted on the end of the arm in a horizontal or vertical position using the mounting rack.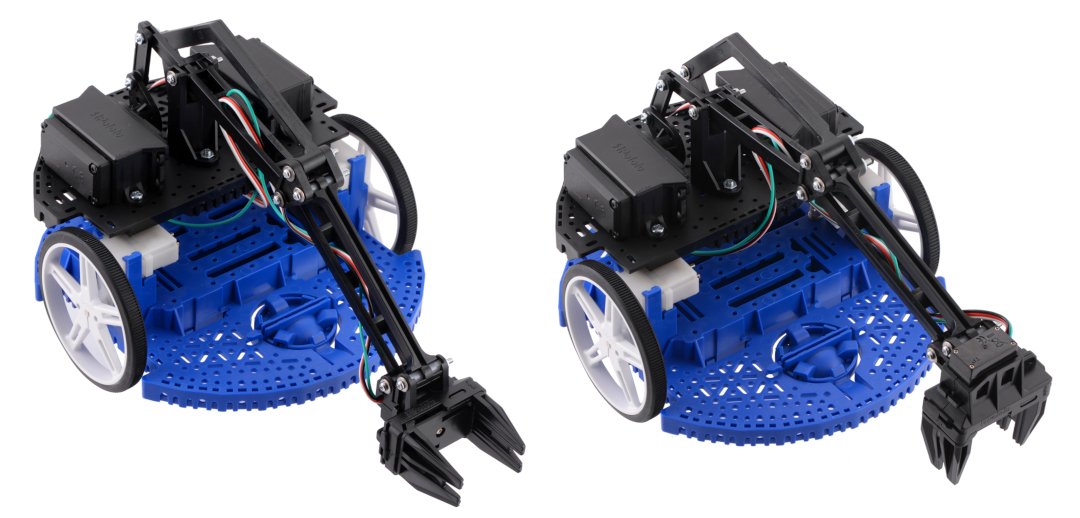 Arm with a gripper mounted horizontally and vertically
The maximum load capacity of the arm is100 g, the arm has a maximum center distance of 32 mm. The range of servo motion capture requires pulsation between0.5msec (fully open) and2.4msec(fully closed), which is beyond the standard range of a servo from 1msec to 2msec.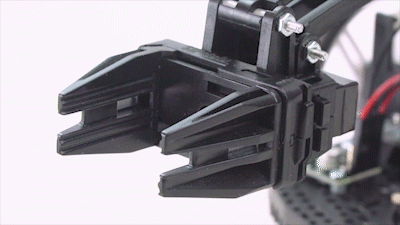 Set includes
1x gripper with servo

1x micro servo
1x top case of the gripper
1x bottom case of the gripper
1x plate of the gripper
1x sprocket of the gripper
2x blades of the gripper

1x platform for mounting on Romi
1x main arm
1x rear arm
1x front arm
1x swivel stand
2x mounting to servos
1x short connector
2x connector transmit rotation
4x rod
2x standard servo
6x nylon 20 mm, 4 mm and 2.7 mm ID
3x nylon spacer 6 mm, 5 mm and 2.7 mm ID
2x aluminum spacer of 1.5" thread #2-56 M-F
2x aluminum spacer 1", external thread #2-56 M-F
6x bolts for mounting 1" #2-56
3-a male 3/8" screw #2-56
4x screw 1/4" #2-56
13x nut #2-56
9x washer
6x mounting bolt 8 mm M3
6-nut M3