Product description: IQaudIO DAC+ - sound card for Raspberry Pi 4B/3B+/3B
The sound card designed for the Raspberry Pi minicomputer provides high quality Full HD 24-bit/192 kHz audio with built-in hardware volume control via the Linux built-in API (ALSA), which uses the Raspberry Pi I2S interface. The overlay is equipped with a high quality 32-bit / 384 kHz Burr Brown 32-bit / 384 kHz (TI PCM5122) converter. On the board there are two RCA connectors and a mini jack connector. IQaduIO has been taken over by Raspberry Pi foundation, providing better support for users.
The Phono / RCA connectors have a mounting hole to provide rigidity when mounted in the enclosure and prevent the card from being accidentally disconnected by pressing on the RCA connectors and bending the GPIO Raspberry Pi pins.
The cap has pinned out pins, allowing you to connect additional accessories to the GPIO Raspbery Pi. The DAC+ uses the GPIO22 as an amplifier mute.
IQaudIO works with many popular operating systems such as Volumio, Raspbmc, RuneAudio, MDP and others. It allows you to listen to internet radio, your own music library or music services.
Main features of the IQaudIO DAC+ overlay
Fully compatible with the HAT standard
Full HD sound - 24-bit / 192 kHz
Hardware volume control (ALSA), full 2 V RMS
High quality headphone amplifier (TI TPA6133A)
High quality sound 112 dB SNR and THD 0.0019%
TI Burr Brown 32-bit / 384 kHz DAC (TI PCM5122)
ESD security
Uses I2S interface to reduce CPU load
Powered directly from Raspberry Pi, no external power supply required
Two Phono / RCA connectors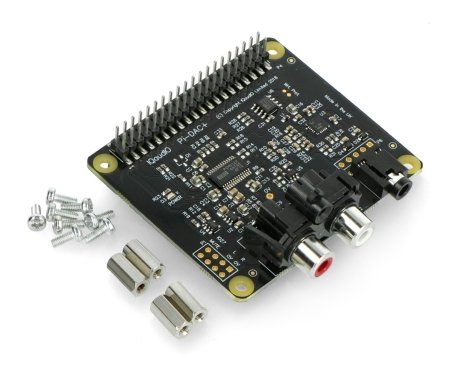 Contents of the IQaudIO DAC+ sound card kit.