Product description: RGB I2C gesture and color sensor - APDS-9960 - DFRobot SEN0187.
The module based on theAPDS-9960chip allows you to detect gestures made byhandmovementandcolors from the RGB color palette,aswell asambientlight. Built-in infraredLEDhelps in taking measurements after dark. The integratedUV-IRfilter allows detection of ambient light and color temperature.Arduinocompatible module. It communicates throughthe I2C interface.Poweredfrom 3.3 V to 5 V.
Sensor outputs of APDS-9960
The APDS-9960 sensor module communicates with the microcontroller via I2C interface. The board is powered from 3.3 V to 5 V and is fully compatible withArduinomodule.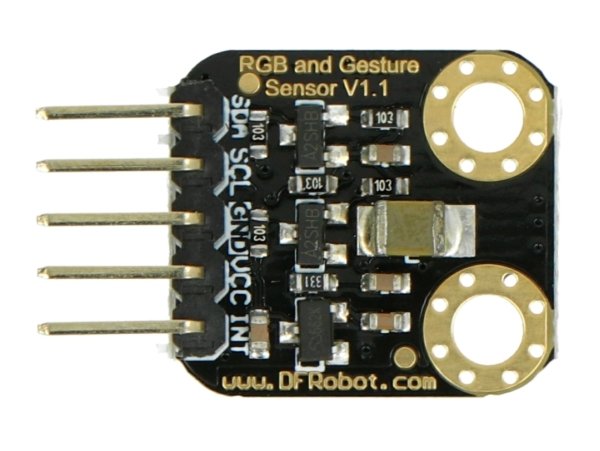 Sensor outputs of APDS-9960.
| Name . | Description |
| --- | --- |
| SDA | I2C bus data line. |
| SCL | I2C bus data line. |
| GND | The weight of the system. |
| VCC | Power supply from 3.3 V to 5 V. |
| INT | External interruption. |
Gesture and color sensor specifications APDS-9960
Supply voltage: 3.3 V to 5 V
Interface: 1 pin I2C and 1 pin external interrupt
Detection range: 100 mm
Dimensions: 18.3 x 16.4 mm