Product description: SenseCAP Outdoor Enclosure - set of external enclosure for Helium gates - SenseCAP M1, M2, BobCat, RAK, Nebra - Seeedstudio 110991747
Enclosure specially designed for Helium gateways . It is waterproof , with an IP66 protection degree, thanks to which it allows the gate to be placed outside buildings when the ambient temperature is in the range from -40 ° C to + 85 ° C. Carefully selected size and design make the SenseCAP Outdoor Enclosure compatible with most popular hotspots such as SenseCAP M1 and M2, BobCat miner 300, RAK hotspot, Cal-Chip, Nebra and more. The kit also includes the necessary mounting accessories.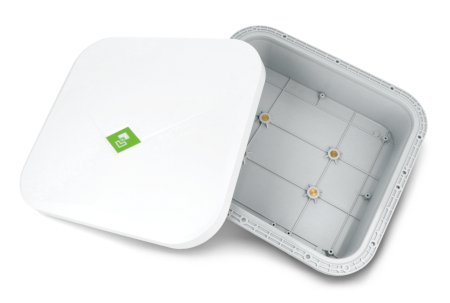 Special features of the product
Waterproof casing with IP66 protection that allows the gateway to be placed outdoors
Universal and suitable for most Helium gates, e.g. SenseCAP M1, SenseCAP M2, BobCat, RAK and others
The set includes all the necessary mounting elements that allow you to mount the device on a wall or pole
It allows you to get a wider range of the LoRaWAN application
Access to many useful interfaces including 3x N-type female interface for LoRa antenna, 1x Ethernet connector with cable gland for Ethernet cable, 1x PG9 interface for power supply and 1x lightning arrester ground connector
Cable entries are not fitted by default, which provides the user with flexibility and allows the housing to be individually adapted to the gateway
Technical specification of the housing
Purpose: for Helium gates (e.g. SenseCAP M1, M2, BobCat, RAK, Nebra)
For external use: yes
Waterproof: yes, protection grade IP66
Holes:

N x3 antenna cable gland holes,
Ethernet x1 cable gland hole,
PG9 hole x1

Housing material: PC
White color
Housing dimensions without connectors: 255 x 275 x 92 mm
Kit weight: 2.2 kg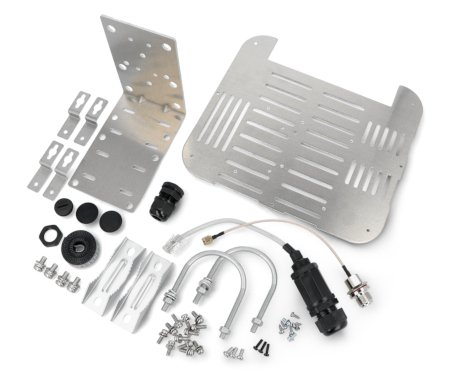 Mounting elements included with the SenseCAP Outdoor Enclosure kit.
Kit contents
Housing consisting of a chamber and a lid
Mounting elements for mounting the housing on a pole
Mounting elements for mounting the housing on the wall
Plate stabilizing the gate inside the housing
Ethernet cable gland
Antenna cable gland
Cable organizer - Velcro band - 1 m
Waterproof silicone plug (2 pieces)
PG9 connector
PG9 plug
A set of mounting screws