Product description: M5Stick ToF Hat - laser distance sensor
Laser distance sensorin the form of ToF Hat overlay, dedicated to the M5Stick Cmodule series. The integrated overlay combines two components: VL53L0X and 940 nm VCSEL emiter. They provide high precision distance measurements, regardless of the target's reflectance. The maximum measuring range of the sensor is up to 2 m and thelaser technology used is invisible to the human eye. For communication with the main module, the Stick series uses an I2C interface. The cap has GPIO compliant connectors of the M5StickC modules, so that their connection is not a problem even for novice users.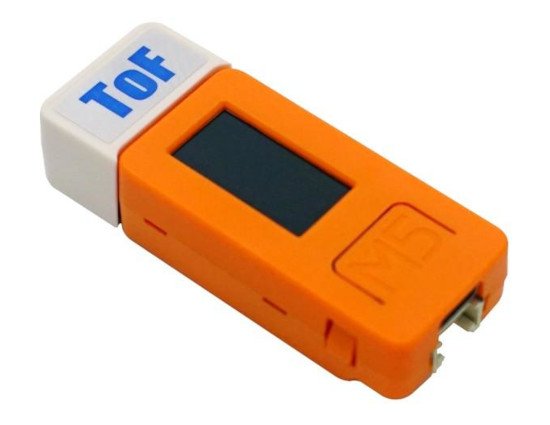 The subject of sale is an overlay in the form of a laser distance sensor.
M5StickCdevelopment module must be purchased separately.
Application of the cover plate
Laser distance measurement
Identification of obstacles
Recognition of gestures
3D structural light imaging (3D detection)
Camera assistance (depth map and autofocus)
Technical Specification
Distance measurement: from 0,3 m to 2 m
Laser: VCSEL 940 nm
Programming platform: Arduino / Blockly / Python
Interface: I2C
Button function
Dimensions: 24 x 20.3 x 13.8 mm
Weight: 8 g