Product description: justPi THT CF carbon 1/4 W 30 Ohm resistor - 30 pieces
The set consists of 30 pieces of resistors. The electronic components are designed for THT through-hole mounting. The resistance is 30 ohm and the tolerance is 5%.
THT carbon resistors
THT carbon resistors are very popular electronic components, right next to ceramic and electrolytic capacitors, as well as LEDs and transistors. In each of the devices powered from 230 V mains or from batteries we can find electronic elements. They work together by selecting them according to the right parameters and appropriate connection. The resistors have the function of limiting current flow, but they can also be used to build signal amplifying blocks.
The elements are sold in packs of 30 pieces.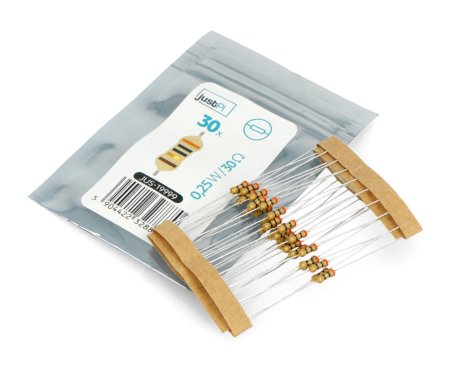 JustPi THT CF carbon 1/4 W 30 Ω resistor - 30 pieces.
Technical specification of the resistor
Resistance: 30 Ohm
Power rating: 1/4 W
Tolerance: 5%.
Mounting: THT through-hole