‌
Product description: UNIT-Digi-Clock 4-digit 7-segment display module - red I2C - M5Stack U146
UNIT-Digi-Clock module for 7-segment display by M5Stack . Allows you to display four numbers with a colon and some letters. Its diagonal display is 2.1" . Thanks to its small size, working with the module should not cause any difficulties. The user does not have to solder anything himself, the display is already connected to the board. The module is equipped with the TM1637 display driver and the STM32F030 chip responsible for I2C communication The I2C address can be modified using a 4-bit DIP switch.The digits are illuminated by red LEDs in 8 brightness levels.The module is powered by 5 V. The set includes a 4-pin cable .
Main features of the product
Module based on STM32F030
Equipped with TM1637 display driver
I2C communication interface
7-segment, 4-digit display
Illumination of digits by red LEDs
Compatible with Arduino
Included
Digit Clock Unit display module
4-pin cable
Application of the display
clock display
data display
Stopwatch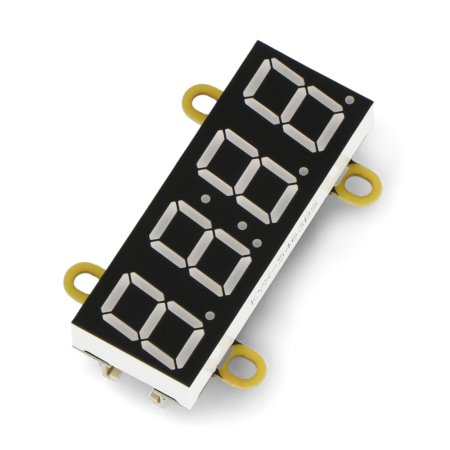 The UNIT-Digi-Clock module of the M5Stack 7-segment display, which allows you to display four digits with a colon and some letters.
Technical Specifications
Microcontroller: STM32F030
Display driver: TM1637
Number of digits: 4
Number of segments: 7
Backlight color: red
Brightness levels: 8
Interface: I2C
I2C address: 0x30
Power: 5V
Mounting holes: 4 (3 x 4 mm)
Dimensions: 50x31x14mm
Net Weight: 12.5g
Gross weight: 17.8g
Packaging: plastic bag