Product description: Lanberg cable USB C - USB C 2.0 black premium QC 4.0 PD 1 m
USBtype C- USB type C cable in black. It has a length of1 m. Supports theQuick Chargetechnologyin version 4.0, charges devices up to 2.5 times faster than with standard cables. Allows you to transfer data at a speed of up to 480 Mb/s. In addition, it is supported by Power Delivery technology, which allows you to power a variety of home appliances - with a maximum power of 60 W. PD technology enables constant configuration of charging current and voltage - thanks to this chargers will always charge with the maximum possible current.
Quick Charge
This is a technology developed by Qualcomm that enables devices to be charged much faster than common chargers and cords. It is based on the manipulation of voltage by an algorithm that automatically selects the optimal parameters.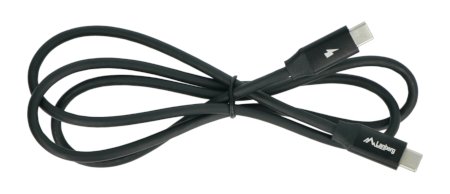 This model has gold-plated connectors.
Cable specification
Manufacturer: Lanberg
Type: USB type C - USB type C
USB version: 2.0
Color: black
Gold-plated contacts
Backward compatible with USB 1.1
Supports Quick Charge version 4.0
Supports 60 W (20 V / 3 A) Power Delivery technology
Maximum data transfer rate: 480 Mbps
Cable length: 1 m
Gross weight: 40 g