Product description: BleBox DoorBox - controller of wi-fi doors and gates - app for Android / iOS
Ready module that allows closing / opening ofdoors, gates, and checking their status viawi-fi networkusingthe app on your smartphonefrom anywhere in the world. In order to use BleBox, it is sufficient to configure the device via web browser. The device hasa screw connectionfor wiring.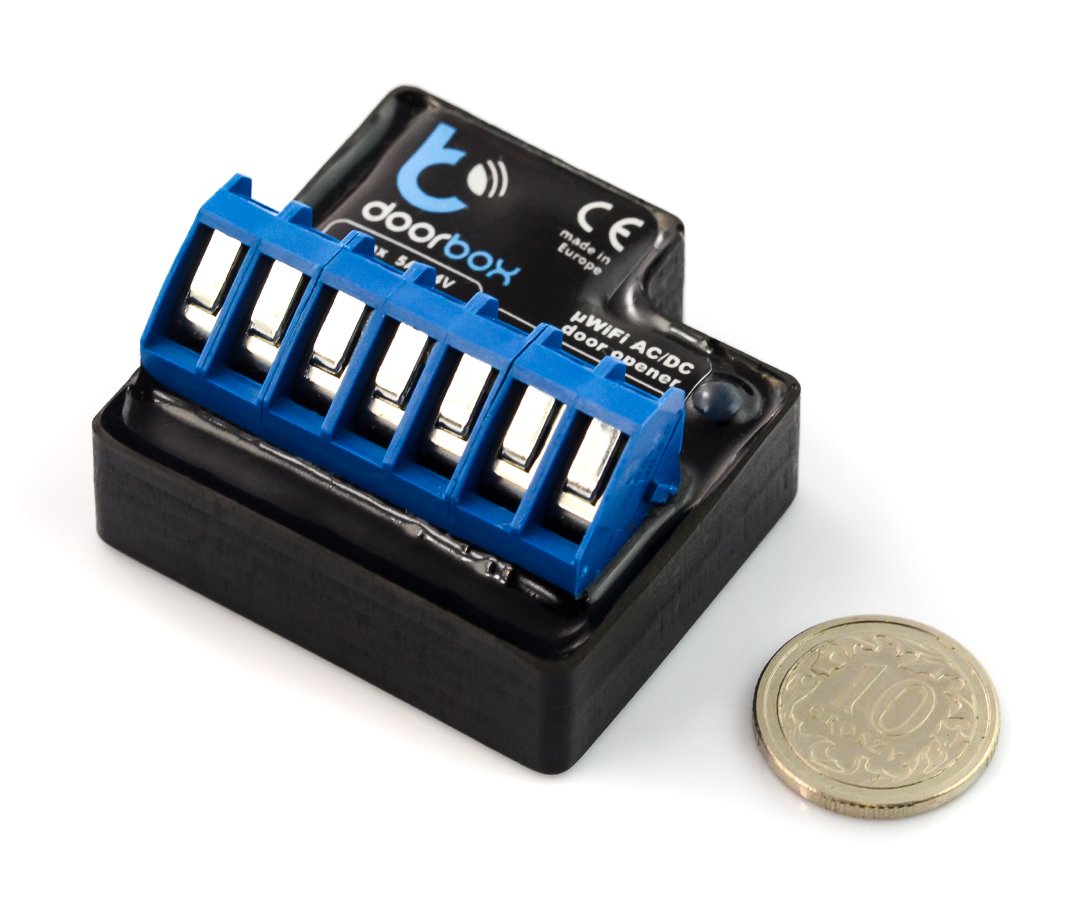 The device hasthreaded connectionfor mounting the wires, compact size allows you to close the module in the case of the gate's controller.
The module was equipped with a relay output, thanks to which, it can use actuators with a current of5 Aand voltagefrom 12 V to 24 Vwithout additional external components. In addition, the device has an input for open / close sensor (e.g.reed switch) which allows, at any time, to check whether a door or gate is open or closed.
Pins of the BleBox DoorBox controller
Before connecting, switch off the voltage in a powered circuit. A driver must be installed in a place protected from the weather, protected from access by third parties.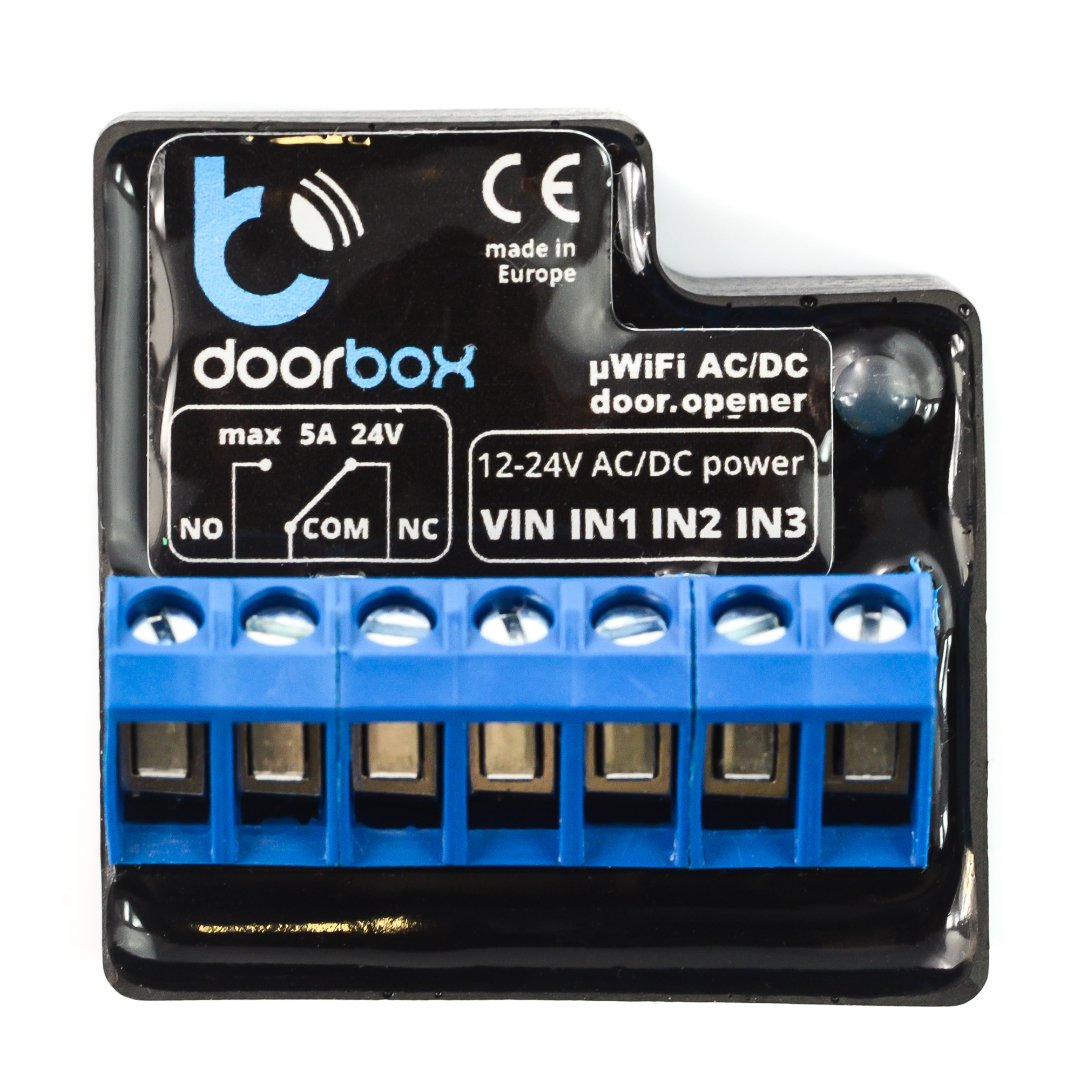 The module has five pins in the form of bolted connectors, to which connected can be the wires with a screwdriver:
Relay outputs - output to connect the devices of max. 24 V / 5 A.
VIN - powered supply is from 12 V to 24 V
INx- inputs to connect sensor
The configuration of the BleBox DoorBox controller
To configure, you need to connect to a wireless network of device called "doorBox-xxxxxxxx" where "xxxxxxxx" is the serial number of the device,then, use the storeAndroid Playorthe AppStore to download thewBox app - control everything. After the application starts, at the top of the screen will display your device, next to the name will be the " + " sign. To prestage devices, you must click the default name of the device.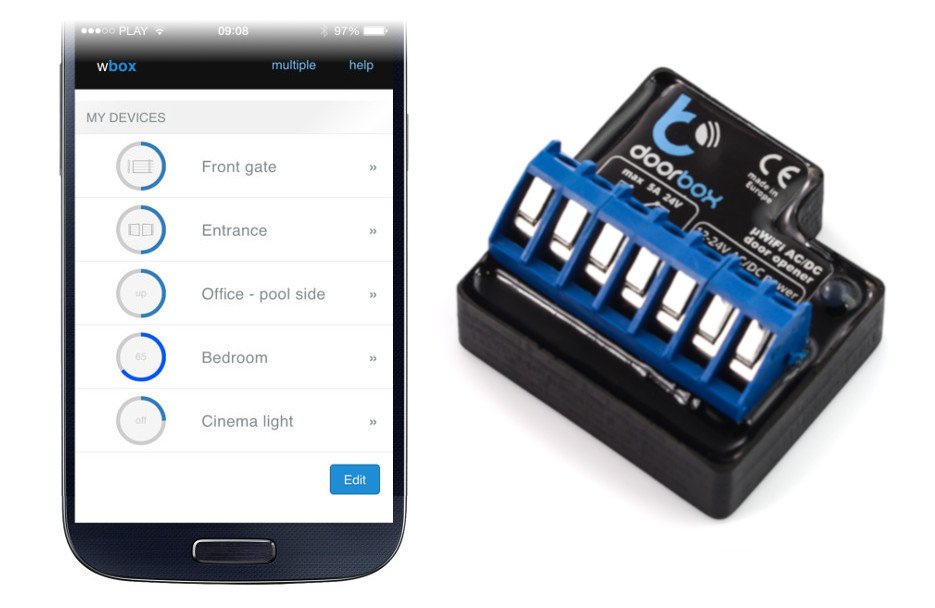 Configuration can be done via the website - for this, you need to connect to a wireless network of the device, then, just launch the Internet browser and enter the IP address of the device:http://192.168.4.1. A configuration website will appear where you must select your home wi-fi network and enter the password.
Specification of the DoorBox controller
Supply voltage: 12 V to 24 V DC (permanent)
Energy consumption: less than 1W
Number of outputs: 1
The type of control outputs: relay
Load current consumption: 5 A max
Load power: up to 1000 W
The number of sensor inputs: 3
Communication standard: µWiFi, compatible with 2.4 GHz wi-fi
Type of two-way transmission: encrypted
Operation mode

direct connection (as Access Point),
wi-fi connection through a standard router
connection with access from anywhere via the Internet

Compatible devices: iPhone, iPad, iPad Mini, Android, computers and mobile devices with HTML5 support
Dimensions: 42 x 39 mm