Product description: Geared motor 70:1 37D x 70L 24 V 140 RPM + CPR 64 encoder - Polyol 4694
Polol's DC motor, supplied with voltage up to 24 V. It is equipped witha CPR 64 quadrature encoder, which counts 64 pulses per motor shaft revolution. The speed is140 rpmand the torque is31 kg*cm. The motor draws up to 100 mA of current during normal operation and up to 3000 mA of current when the shaft is stopped.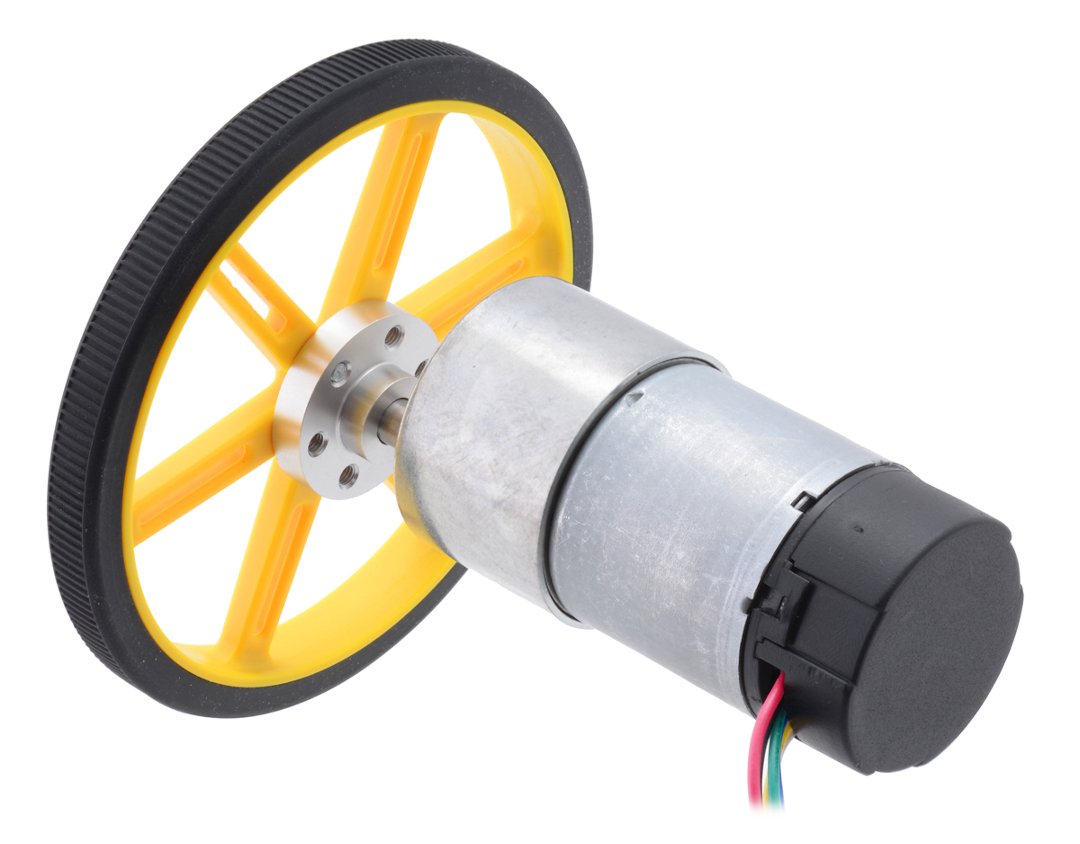 Using an additionalhub, it is possible to mount wheels on the motor shaft.
Motor dimensions
The diameter of the DC motor is 37 mm and its length is 70 mm. Exact dimensions can be found in the drawing.
Encoder CPR 64
The DC motor has a quadrature encoder mounted, which uses the Hall effect. It allows the detection of pulses on a rotating magnetic disk, which is located at the back of the motor. The encoder allows the measurement with a resolution of 64 pulses per revolution of the motor shaft, and after translation it is the right amount more.
Encoder outputs:
Red-

motor power supply

Black -engine power
Green -encoder mass potential
Blue -Encoder power supply (3.5 V to 20 V)
Yellow -encoder output A
White -encoder B output
Motor specifications
Specification
Power supply voltage:
24 V
Encoder operation voltage:
3.5 V to 20 V
Encoder resolution:
64 pulses per revolution
Gearbox:
70:1
Average current consumption at 24 V:
100 mA
Maximum power consumption at 24 V:
3000 mA
Speed at 24 V supply:
140 rpm
Torque at 24 V supply:
31 kg*cm
Dimensions:
70 x 37 mm
Shaft diameter:
6 mm
The weight:
205 g