Description: Sub-micro 700:1 90 rpm 0.9 kg*cm - Polyol 2359 motor.
Small, cylindrical, coreless motor with planetary gear 700:1. External diameter is 6 mm and total weight is only 1.3 g. Together with14 x 4.5 mm wheels, these motors are the perfect drive for miniature mobile robots. Detailed dimensions can be found inthe technical drawing.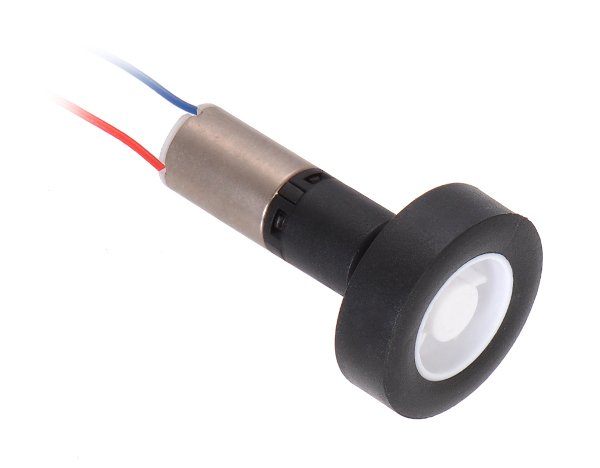 Sub-micro motor with 14 x 4.5 mm wheel.
Although the nominal operating voltage is between 3 and 6 volts, sub-micro motors can be supplied with voltages outside this range. The shaft starts to rotate as early as 0.3 V. If the voltages are higher than 6 volts, please note that these may affect the service life of the motors.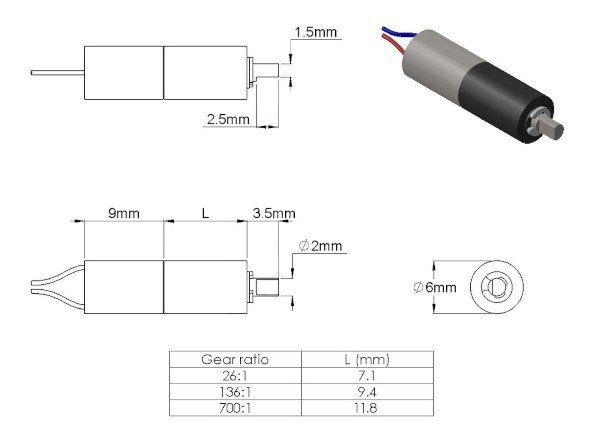 Dimensions of the sub-micro motor.
Specification
Supply voltage: 3 V to 6 V
Average current consumption (6 V): 45 mA
Maximum power consumption (6 V): 400 mA
Gearbox type: planetary - plastic
The gearing: 700:1
Speed: 90 rpm
Torque: 0.9 kg*cm
External diameter: 6 mm
Length: 21 mm
Shaft diameter: 2 mm
Weight: 1,3 g
Our offer also includes sub-micro motors with gears: 136:1, 500rpm and 26:1,2500 rpm.