Product Description: 3 Channel Wide Angle Distance Sensor - OPT3101 - Pololu 3412
Wideangledistance sensormanufactured by Pololu, It is equipped withOPT3101chip from Texas Instruments. Detects thepresence of objectswithin a radius ofup to 1 mand measures their distance in three zones TX0, TX1 and TX2. The measurement obtained from the three zones provides anFOV of approximately 180°. The sensor uses theI2Cbus to communicate with othermodules. The leads are solder fields wheregoldpinconnectors should be soldered. The module operates with a voltage rangefrom 2.5V to 5.5V.
Distance measurement in three zones
Sensor performs measurement inthree channelsTX0, TX1 and TX2. Their combination allows detection with a viewing angle ofapproximately 180°. In favourable conditions, it can detect objectsup toa radius of1 m. The module emitsinfrared lightthanks to built-in LEDs. The returned value is thetime delay of the reflected signal, based on which the distance of the detected object is calculated.
In our shop you can also find otherdistance sensors. We invite you to familiarize yourself with the offer.
Description of leads
GND - system ground
VIN - power supply in the range from 2.5 V to 5.5 V
SDA - data line of I2C communication interface
SCL - clock line of I2C communication interface
GP1 - configurable 3.3 V I/O pin
GP2 - configurable 3.3 V I/O pin
RST - RESET pin
Technical specification of the distance sensor
Measuring technology: Infrared light emission
Operating voltage range: 2.5 V to 5.5 V
Current consumption: 130 mA at 3.3 V
Measurement range: up to 1 m
Number of measurement channels: 3
Communication interface: I2C
Viewing angle (FOV): approx. 180°
Module dimensions: 27.9 x 30.5 mm
Weight: about 3 g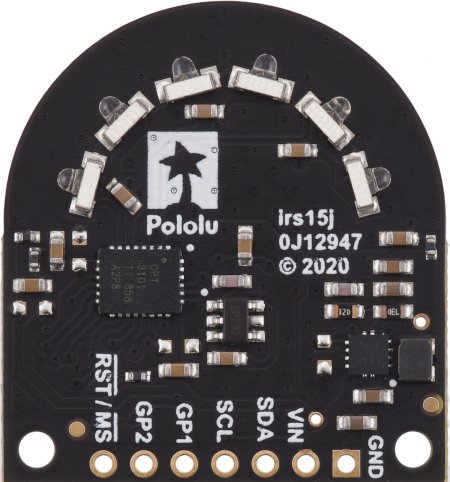 Thegoldpin connectorsrequired to connect the module are not included. You can buy them separately in our shop.