Description
Wi-fi module based on the ESP8266 chip. Works in standard wi-fi 802.11 b/g/n at 2.4 GHz. Equipped with 22 leads - pitch 2 mm, of which 11 is GPIO, 1 ADC and SPI. Has a built-in LED and a PCB antenna. The plate size 24 x 16 mm.
Compared tothe previous version of ESP-12, ESP-12E has additional GPIO pins and SPI interface available on the narrower edge of the module in the form of soldering pads.
In our offer, you will also findan adapterthat allows you to attach the system into the breadboard.
Features of the module ESP-12E
Features that distinguish the ESP 12-E module on the background of the whole family of ESP-XX:
Has 16 pins:

11 x GPIO - digital outputs/inputs
1 x ADC input - analog-to-digital converter
1 x SPI interface
1 x I2C interface
2 x UART (TX, RX) - for communicating, for example with Arduino

Mounting: SMD / THT:

Holes diameter: 0.9 mm
Pitch of leads: 2 mm

The default UART communication speed: 115200 bps
Equipped with built-in PCB antenna
Module shielded
Dimensions: 24 x 16 mm
Connecting
The module has 22 leads, pitch of 2 mm.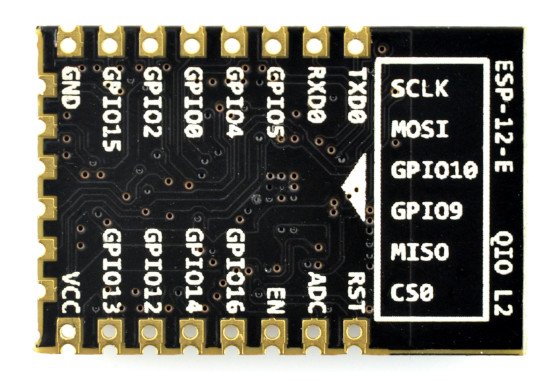 Pin
Description
TxD
The transmitter of the serial interface UART.
RxD
The receiver of the serial interface UART.
GPIO x
Lead GPIO (digital output/ input) with a serial number.
GPIO 0
GPIO with special function:


To update, you need to indicate the low status (connect to GND).

GPIO 15

GPIO No. 15 with a special function:

In normal and programming mode should indicate the low status (conect to GND).

ADC
Input of analog-to-digital converter.
REST
The system reset.

EN

(CH_PD)

Power down - indication of low state causes a transition to sleep mode.

To update, you need to indicate a high status (3.3 V).

VCC
The Power - 3.3 V.
Specification
Supply voltage: 3.3 V
Current consumption at rest: approx. 10 mA
Chip: ESP8266
Flash memory: 4 MB
Standard: wi-fi 802.11 b/g/n
Operates in the 2.4 GHz frequency
Supports WPA / WPA2 protections
Can work in AP mode (Access Point), STA (standalone) and AP+STA
Supports AT commands
Communication: UART (Rx, Tx)
The default UART speed: 115200 bps
Mounting SMD or THT
Pitch of leads: 2 mm
Hole diameter: 0.9 mm
Has 16 pitch leads 2 mm

11 x GPIO - digital outputs/inputs
1 x ADC input - analog-to-digital converter

Equipped with communication interfaces: SPI, UART, SDIO
Software support Lua
Tile sizes: 24 x 16 mm