Product description: PCF8575 - GPIO pin expander - I2C - STEMMA QT / Qwiic - Adafruit 5611
Adafruit pin expander equipped with PCF8575 chip. It has as many as 16 pins of GPIO inputs / outputs , thanks to which it increases the design possibilities of the modules used. It communicates using the I2C bus, has 3 configurable interface addresses. On the board there are two STEMMA QT / Qwiic connectors and soldering pads to which the goldpin strip included in the set should be soldered.
Product compatible with Arduino and Raspberry Pi!
The manufacturer has prepared a detailed user's guide , in which you will find instructions for connecting the module and sample program code.
Special features of the module
Multiple I/O mode - thanks to 3 address pins, you can get up to 8 outputs on one bus, which gives a total of 8 x 16 = 128 GPIOs on one I2C bus
The module can be programmed using Arduino and CircuitPython - the manufacturer provides libraries and sample program codes
The board has STEMMA QT / Qwiic connectors that allow for quick prototyping of systems without the need to solder the connector
Kit contents
PCF8575 - GPIO pins expander - I2C - STEMMA QT / Qwiic - 1 piece
Goldpin strip 1x16 pin - raster 2.54 mm - 2 pieces
STEMMA QT/Qwiic connector
The expander is equipped with two STEMMA QT connectors, located on the edges of the board. This standard increases prototyping capabilities, significantly speeds up the process of connecting with development boards and a wide range of other sensors. All this is done without the need for soldering and only with the use of a suitable cable.
Pin description
VIN - 3V / 5V DC power pin
GND - system ground
SCL - clock line of the I2C bus
SDA - data line of the I2C bus
P0 - P8 - I/O pins
10 - 15 - I/O pins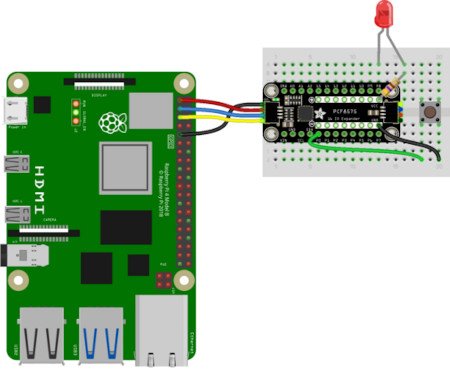 An example of connecting the expander with Raspberry Pi (not included).
Module technical specification
Type: GPIO pin expander
Built-in chip: PCF8575
Number of I/Os: 16
Communication interface: I2C bus
Interface address:

default: 0x20
configurable: from 0x20 to 0x27

Supply voltage: 3V / 5V DC
Leads:

STEMMA QT/Qwiic connectors
soldering pads (goldpin connectors for self-soldering are included)

Module dimensions: 40.8 x 17.7 x 4.5 mm
Weight: 2.6g