Product description: Gravity - BMI160 6DoF IMU - 3-axis accelerometer and gyroscope - DFRobot SEN0250
A 6-axisinertial sensor equipped with the Bosch BMI160 MEMS chip. The module integrates a 16-bit 3-axisaccelerometerand a 3-axisgyroscope. It is used to measure linear acceleration in the ranges± 2 g / ± 4 g / ± 8 g / ± 16g and angular velocity in the range± 125 dps / ± 250 dps / ±500dps / ± 1000 dps / ± 2000 dps. It is characterized bylow power consumptionandhighreadingaccuracy. It is used as an additional element for smartphones, tablets and other mobile devices. It can be used to count steps, as a recorder during running and other exercises. It has a built-in LDO power management circuit, works with a voltage rangefrom 3.2 V to 6 V. It usesI2Cbus to communicate with the controller module.
Product is compatible with Arduino
The manufacturer has prepared a detaileduser guidethat makes it significantly easier to start working with the module. It contains instructions for connecting the module to the controller,libraryfor Arduino IDE environment and sample program code.
Special features
6-axis motion sensor equipped with Bosch BMI160 MEMS chip, which is a combination of 3-axis accelerometer and 3-axis gyroscope
Low power consumption with high measurement precision
Built-in LDO for power management
Compatible with 3.3 V and 5 V controllers
Use for step counting, acceleration detection and angle of inclination applications
Kit contents
Gravity - BMI160 6-axis IMU sensor from DFRobot
I2C / UART connection cable with Gravity connector
1x4 goldpin strip - 2.54 m pitch
Pinout and connection diagram
The sensor module can be connected to the controller in two ways: using theGravityconnector or solder fields. The kit includesmounting and connection componentsfor each option. Connect the components according to the following relationships:
VCC ("+") - supply power to the circuit in the range from 3.2 V to 6 V
GND ("-") - system ground
SCL (C) - I2C interface clock line
SDA (D) - I2C interface data line
INT1 - configurable interrupt 1 output
INT2 - configurable interrupt 2 output
SDO - I2C interface address selection

GND - 0x68
VCC - 0x69 (default)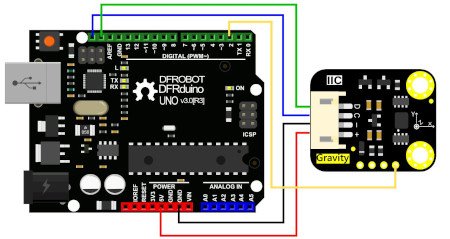 Connection diagram of the module withDFRduinoboard, which is an Arduino equivalent. The board is not included in set, it can be purchased separately in our shop.
Technical specification of the sensor
Type: 6-axis motion sensor IMU

3-axis accelerometer
3-axis gyroscope

Integrated circuit: MEMS Bosch BMI160
Operating voltage range: 3.2 V to 6 V
Current consumption: < 1 mA
Communication interface: I2C
Connector: Gravity
Accelerometer measuring range: ± 2 g / ± 4 g / ± 8 g / ± 16 g
Accelerometer Zero-g Offset: ± 40 mg
Gyroscope Measuring Range: ± 125 dps / ± 250 dps / ±500 dps / ± 1000 dps / ± 2000 dps
Zero-g Gyro Offset: ± 10 dps
Frequency range: 25 Hz to 1600 Hz
Data Output: 16-bit
Shock Resistance: 1000 g x 200 us
FIFO: built-in, 1024 bytes
Operating temperature range: -40°C to 85°C
Module dimensions: 22 x 27 mm