Product description: Gravity - LIS2DW12 - 3-axis accelerometer ±2g/±4g/±8g/±16g - I2C - DFRobot SEN0409
Gravity module in a form of 3-axis accelerometer, which allows to measure linear acceleration. It has a built-in LIS2DW12 chip (belonging to the popular LIS series) and is powered by a voltage in the range of 3.3 V to 5 V. Additionally, the sensor from DFRobot has the ability to measure acceleration in the range of ± 2 g / ± 4 g / ± 8 g / ± 16 g. The measurement frequency ranges from 1.6 Hz to 1600 Hz.
Suggested application
Free fall detection
Activity detection and recording
Single/double touch detection
Self-balancing robot
Aircraft
Human Activity Detection
6D / 4D orientation detection
Leads description and connection diagram
The module has a Gravity compliant connector. Thanks to it there is no need to solder additional connectors, and whole connection process is much faster and more comfortable.
VCC/+ - power pin in 5 V / 3.3 V
GND/- - chip mask
SCL/C - I2C communication interface clock line
SDA/D - I2C communication interface data line
Set contents
Gravity - H3LIS200DL - 3-axis accelerometer - I2C - from DFRobot
Gravity 4-pin I2C/UART connection cable - 1 pc.
Product compatible with Adruino, Raspberry and micro:bit from BBC
A detailed user guide is available on the manufacturer's website, which makes getting started with the module much easier. There are also libraries for the various development environments available for download on GitHub.
What is accelerometer? What is it used for?
Accelerometer is a sensor that allows to determine selected body parameters. We're talking about acceleration measurement (in three axes), so the term accelerometer is used interchangeably. Accelerometer is a transducer that measures linear acceleration, that is, it measures its own motion. Not sure where an accelerometer is used? It's easy - you can even find one in your mobile phone.
You can learn more about accelerometer in the article available on our blog - welcome!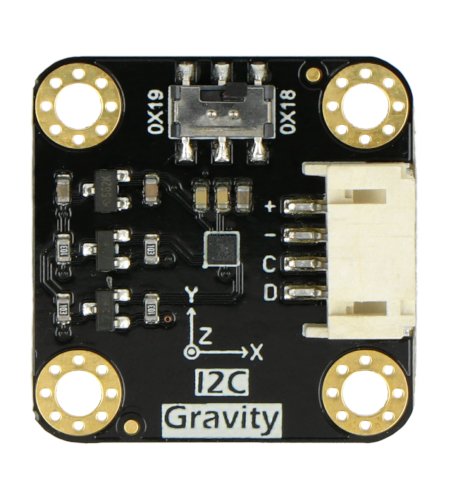 What is accelerometer? Answers to this question can be found on Botland blog!
Technical specification of Gravity sensor from DFRobot
Module type: accelerometer
Purpose: to measure linear acceleration
Embedded chip: LIS2DW12
Acceleration measurement range: ± 2 g / ± 4 g / ± 8 g / ± 16 g
Measuring frequency: 1.6 Hz to 1600 Hz
Supply voltage range: 3.3 V to 5 V
Operating current:

8 µA to 10 µA in low power mode
approximately 0.12 mA in high performance mode

Connector standard: Gravity
Communication interface: I2C bus
I2C interface address:

0x19 (default)
0x18 (optional)

16-bit data output
Operating temperature range: -40°C to 85°C
Shock resistance 10000 g
Sleep and wake-up function
Very low noise level: 1.3 mg RMS (low power consumption mode)
32-level FIFO
ECOPACK, RoHS and Green compliant
Module dimensions: 27 x 27 mm
Mounting hole size:

inner diameter: 3.1 mm
external diameter: 6 mm