Description
LCD display 2x16 characters with backlight in blue. Communicates with two-wire I2C bus. The kit includes a cable adapted toGravity DFRobot IO Expansion Shield.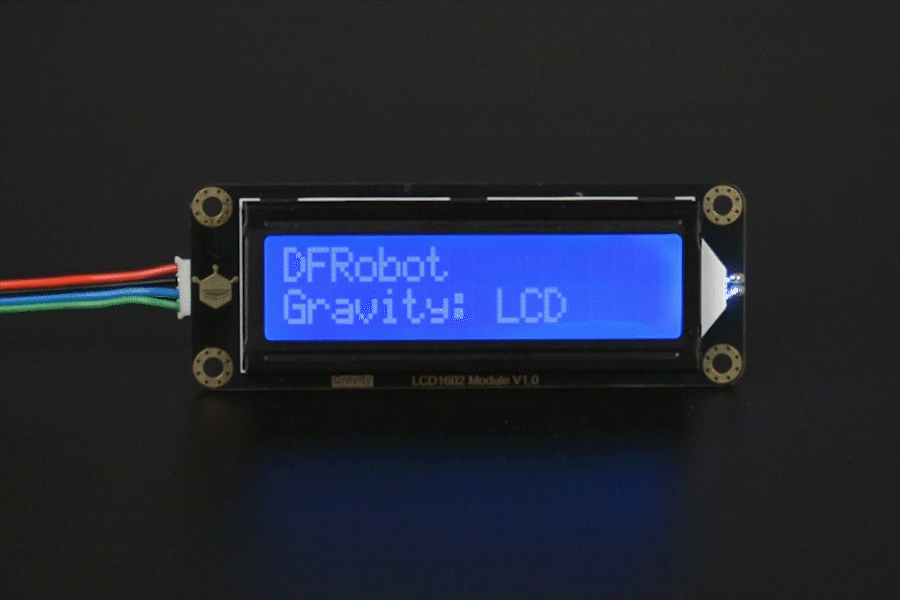 The product is compatible with Arduino
Sample code and detailed information can be found inthe user guide.
Outputs
The display communicates with the Arduino using the I2C bus, the connection can be facilitated by the output expander Gravityprepared by the manufacturer.

| Pin | Description |
| --- | --- |
| VCC | Supply voltage from 3.3 V to 5 V. |
| GND | The ground of the system. |
| SCL | Clock line of the I2C bus. |
| Traffic | Data line of the I2C bus. |
Specification
Supply voltage: from 3.3 V to 5 V
Current consumption: 20 mA
Display: 16 x 2 characters
Communication: IIC / I2C
Backlight: blue
Operating temperature: -20 to 70

℃

Ambient temperature: -30 to 80

℃

Dimensions: 87 x 32 x 13 mm