Product description: LAD 500 N 15 mm/s 12 V electric actuator - 20 cm extension
Electric actuator with50 kg(500 N)load capacity. It is designed for a12-voltsupply. The device operates ata speedof15 mm/sec. Thanks to the use ofmetalgearmodesit is characterized by high strength and precision. The actuator has aprotectionclassIP65. The length of itsextensionis20 cm.Limit switchesprotect against exceeding the extension range.

Electric actuator LAD 500 N 15 mm/sec 12 V - extension 20 cm.
The actuator is controlled by means of buttons or relays. Thanks to its high tightness class, it can also be used in outdoor conditions. Its installation is facilitated by specially designedrear mounting. As in DCmotors,reversingthe polarity changes the direction of the extension.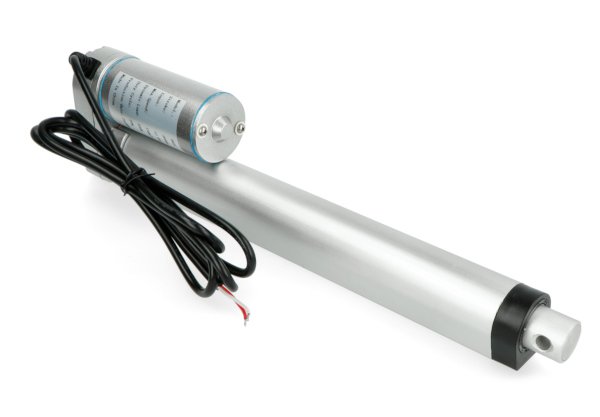 LAD 500 N 15 mm/sec 12 V electric actuator. Otherlinearactuators are also available.
Examples of application of the LAD 500 N electric linear actuator
In industry and agriculture as a machine component
The actuator can be used as an element in precision automation
Home automation: opening and closing of doors, windows, gates
In motor vehicles

opening and closing the boot lid of off-road vehicles
plough height adjustment in quads

Photovoltaic installations
Supporting the opening and closing of industrial valves
12V actuator specification
Name
Parameter
Supply voltage
12 V DC
Current consumption
up to 2 A
Speed
15 mm/s
Maximum power
500 N (50 kg)
Duty cycle
20%
Extension length
200 mm
Total length when folded in L1
310 mm
Diameter
20 mm
Operating temperature
from -25°C to 65°C
Safeguards
Limit switches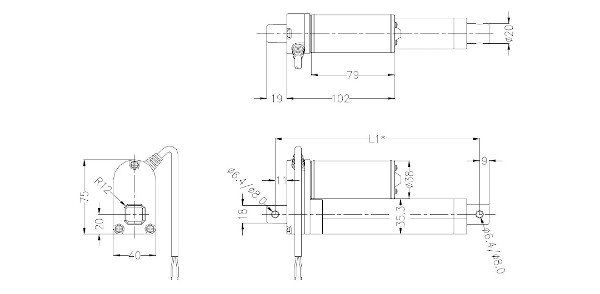 LAD 500 N 12 V.