Description: Peltier cell TEC1-12710 15,8 V / 10,5 A
Peltier cell supplied with15.8V.Current consumption is 10.5 A. The dimensions of the board are equal to 40 x 40 x 3.3 mm. It isused e.g. in portable fridges or refrigerators.A device consisting of two plates connected by p-n connectors on one side draws heat to give it away on the other. A detailed description of the Peltier phenomenon and the construction of the cells can be found onon this page.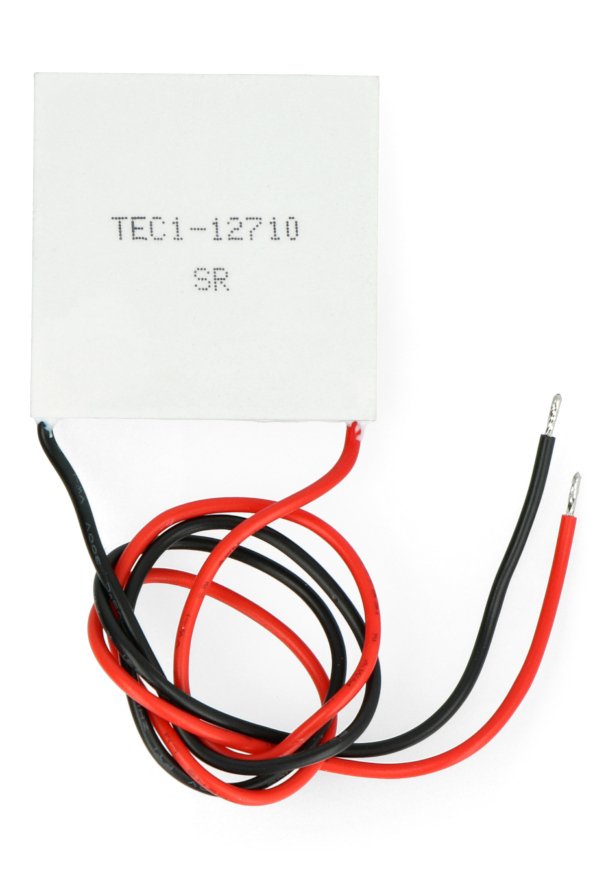 Peltier cell TEC1-12710.
Peltier cell specification TEC1-12710
Supply voltage: 0 V to 15.8 V (nominal 12 V)
Heat dissipation power: up to 89 W
Current consumption: max 10.5 A
Resistance: from 1.08 Ω to 1.24 Ω
Cable length: approx. 15 cm
Operating temperature: max. 138°C
Dimensions: 40 x 40 x 3.3 mm