Product description: DS1841 - Digital potentiometer 10K I2C STEMMA QT/Qwiic - Adafruit 4570.
The Adafruitdigitalpotentiometer allows you to adjust the circuit without having to turn the knob manually. A module with anI2Cinterface in which the resistance dependence on the slider is logarithmic. Potentiometer with a resistanceof 22 kΩ to 3.7 kΩ and128 hook points.Logarithmic type devices are used for volume control as they better match the human ear's response to sound.
Module outputs
Digital potentiometer DS1841 has special leads, to which appropriate goldpin connectors (includedin the kit) should be soldered. Alternatively, it can be connected with STEMMA QT /Qwiicconnectors.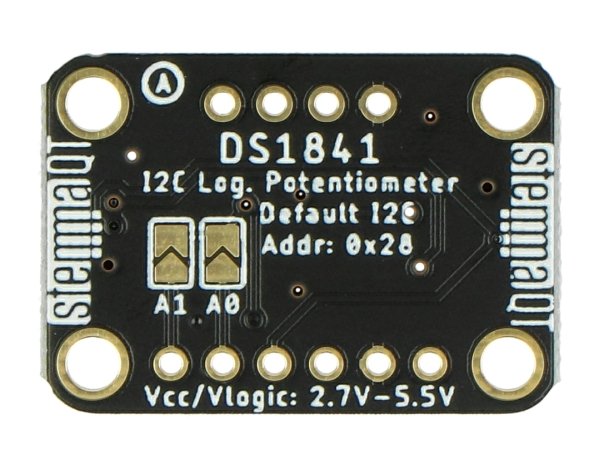 | Pin | Description |
| --- | --- |
| VCC | Supply voltage from 2.7 V to 5.5 V. |
| GND | The weight. |
| SCL | I2C interface clock line. |
| SDA | I2C interface data line. |
| RW | Potentiometer output (slider). |
| RH | Potentiometer output (edge). |
Arduino compatible product
In order to facilitate work with the module, the manufacturer has prepared auser guide togetherwith Arduino library.
Connecting the module using STEMMA QT / Qwiic connectors
The module has a special lead for STEMMA QT /Qwiicconnectors. Below is a connection using Metro board,which is equivalent to traditional Arduino board.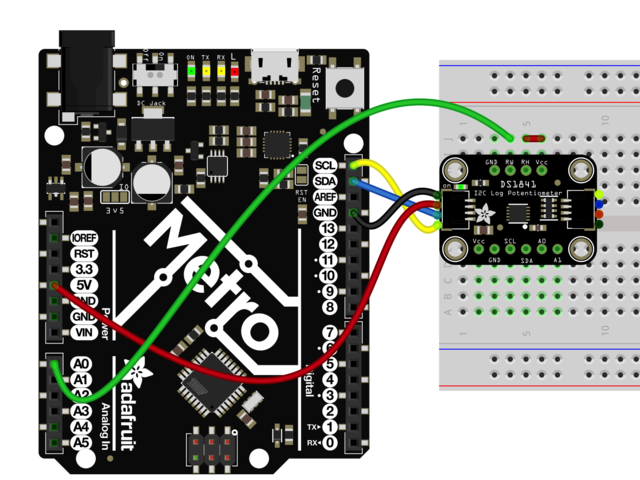 Technical specifications of DS1841 digital potentiometer
Supply voltage: 2.7 V to 5 V
Logarithmic resistor: 22 kΩ to 3.7 kΩ
Fixed resistor: 3.6 kΩ
Temperature sensor: chip / ADC
Operating temperature: -40°C to 100°C
LUT*: 72 B
Interface: I2C

Dimensions: 25.5 x 17.6 x 4.6 mm
*LUT (Look Up Table) - a built-in table that allows you to adjust the temperature compensation.
Set contents
Sensor module
Goldpin connectors