Product description: 1Mpx Stereoscopic Camera for Raspberry Pi and Nvidia Jetson Nano - Arducam B0266
Set of two cameras, Arducam that allows you to createa stereoscopic camerabased on Raspberry Pi or Nvidia Jetson Nano minicomputer. Two cameras connect to the main board using tape, you can freely change the position of the cameras to get different perspectives. The cameras are equipped withOV9281sensor with MIPI CSI-2 connector and standard Video4Linux2 (V4L2) driver. The frames of both cameras are hardware synchronized, there is no need for additional consideration of the synchronization scheme with a timestamp. Thanks toMono Global Shutterit is possible to photograph fast moving objects, the resulting image will be sharp and clear. The resolution of the cameras is1 Mpx, they are equipped with 1/2.7" format lenses with distortions up to 1%. The focal length is 2.8mm and the viewing angle is70°.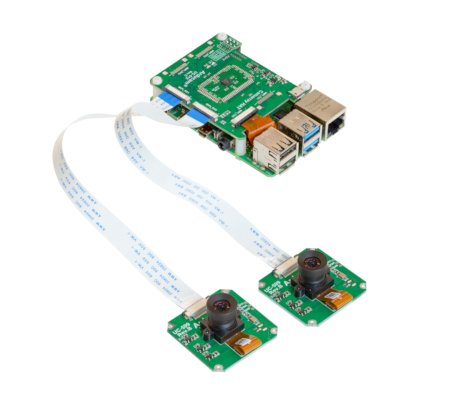 Connection of cameras with Raspberry Pi.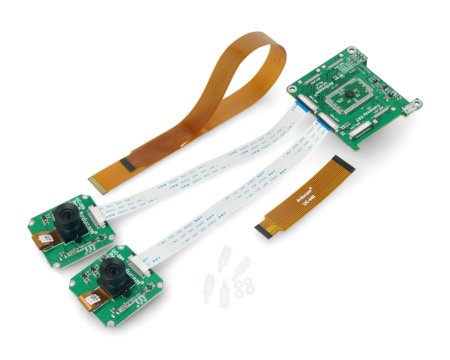 Kit contents.
Attention.
Thecamera driveruses the operating system kernel. Upgrading or downgrading the system version may change the system kernel, which involves changing the driver.
The kit is not compatible with Raspberry Pi Zero.
Application of the camera
Face and eye tracking
Gesture detection
Motion detection
3D reconstruction
Depth vision applications
Set contents
2 x 1 Mpx OV9281 camera
1 x HAT cap for camera
2 x 10 mm 22-pin ribbon
1 x Tape 300 mm 15-pin - 22-pin
1 x 73 mm tape 15-pin - 22-pin
4 x nylon spacer M2.5 x 10 mm
4 x nylon nut M2,5
4 x nylon screw M2,5 x 6 mm
ArduCam kit specifications
HAT Cap:

Compatible with Raspberry Pi 4B / 3B+ / 3B and Nvidia Jetson Nano / NX
Two MIPI camera inputs and one MIPI output
Supports 1/2 line MIPI inputs up to 1 Gbps/line
Support for 2-band MIPI output up to 1 Gb/s/line
Supports RAW8 / RAW10 / RAW12 output format, output format changes automatically with input format
Supports standard V4L2 platform
Supports up to 16 Mpx Arducam cameras
Supports side-by-side cameras
Dimensions: 65 x 56 mm

Camera:

Sensor: OV9281 monochrome iris
Pixel size: 3 μm x 3 μm
Active board size: 1280 x 800 px
Format: 1/4"
Focus range: 30 mm - infinity
Infrared sensitive: No IR filter
Output interface: 2-line MIPI output
Video modes:

8-bit RAW,
90 fps at 1280 * 2 x 800 px with Jetson Nano / Xavier NX
60 fps at 1280 * 2 x 800 px with Raspberry Pi

Dimensions: 40 x 40 mm

Lens:

Format: 1/2.7"
Distortion < 1%
Focal length: 2.8 mm
Viewing angle: 70°
F/NO: 2.8
Mounting: M12
Dimensions: 14 x 15.6 mm
Weight: 4 g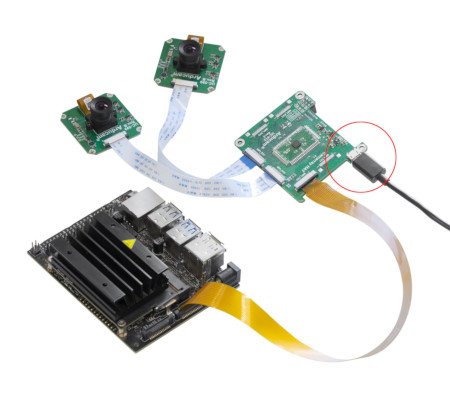 An example of connecting a camera with Nvidia Jetson Nano.