Description
The module working witha Raspberry Pi that provides communication in GSM and GPRS. It allows sending SMS messages. It also has built-in GPS and LTE module. On the board are: connector for SIM-card, antenna and the u.FL slot for mounting the externalantenna. NB-IoT is a new field of the Internet of things that supports a connection to the phone network in the WAN network.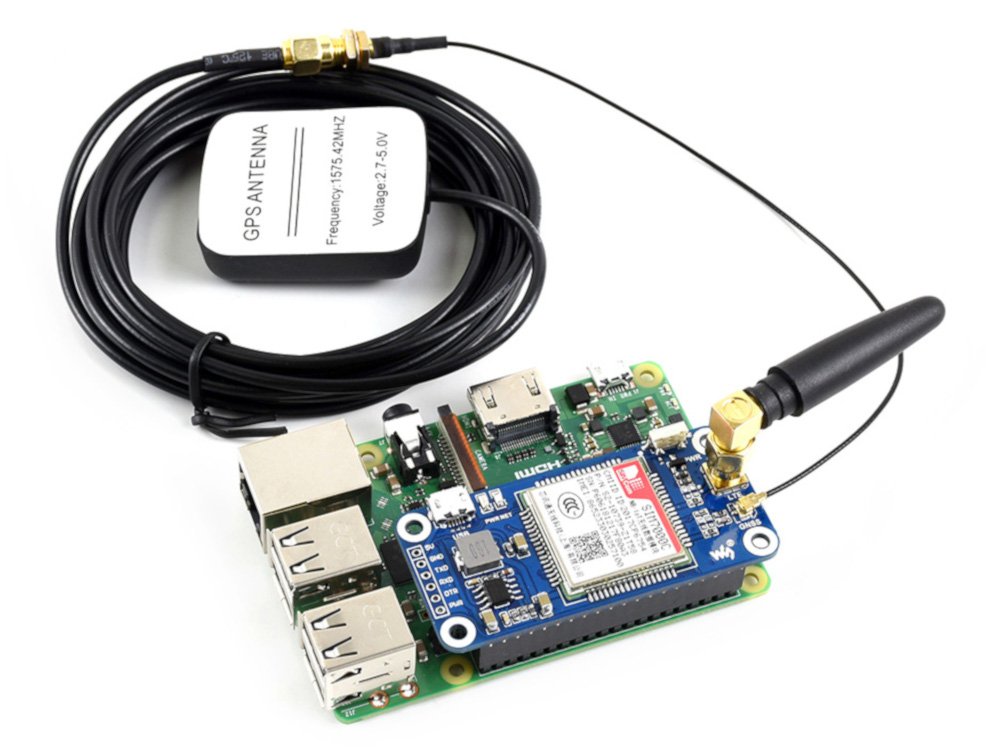 The subject of the sale is a shield, minicomputerRaspberry Pican be purchased separately.
Applied SIM7000E module provides a connection through the network GPRS/LTE, and also has a GPS module. On the board is a slot for SIM-card.
Attention!
System SIM7000E supports a number of region Europe, Africa, Australia and South-East Asia, before buying, you should make sure that the operator supports the given range.
Connection
Board has connector that is compatible with the Raspberry Pi GPIO. To get started working with the device, sufficient is to connect the module and also upload manufacturer's code example to Raspberry.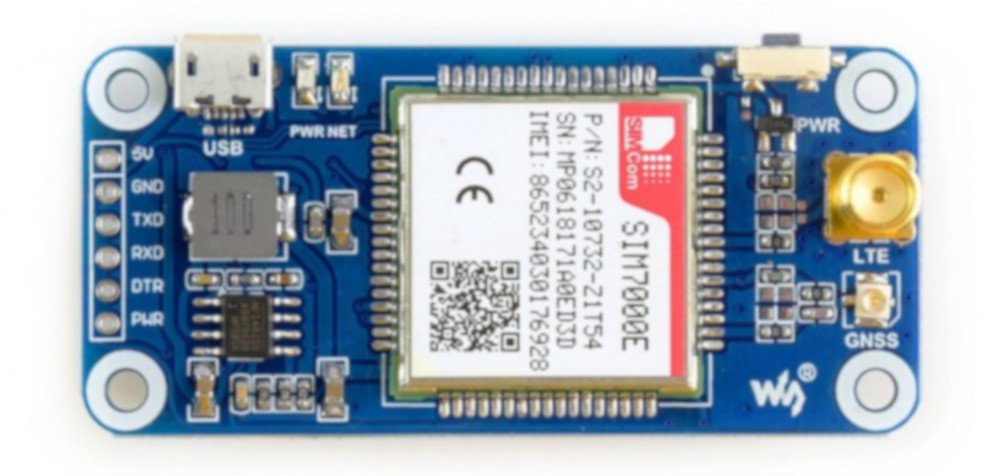 Specification
Supply voltage: 5 V

Working voltage: 5 V / 3.3 V (by default - 3.3 V)

M

odule is controlled with AT commands
Built-in GSM/LTE/GPS SIM7000E:

Four-band FDD-LTE B1 / B3 / B5 / B8
GPRS/EDGE 900 / 1800 MHz
LTE CAT-M1 (eMTC.): 375 kbps (up), 300 kbps (down)
NB-IOT: 66 kbps (up), 34 kbps (down)
Class EDGE: 236.8 kbps (up), 236.8 kbps (down)
GPRS 85.6 kbps (up), 85.6 kbps (down)
Output power:

GSM900: 2 W
GSM1800: 1 W
EGSM900: 0.5 W
DCS1800: 0.4 W
LTE: 0.25 W

Current consumption:
Operating temperature: -40 °C to 85 °C
GNSS (GPS, GLONASS, BeiDou and Galileo)
Type of receiver:
Frequency:

Tracking: -162 dBm (GPS) / -157 dBm (GLONASS)
Cold start: -148 dBm

Time-To-First-Fix

Cold start: <35 sec
Hot start: < 1 sec

Accuracy:
Firmware update via USB
It supports SIM card and card NB-IoT

GNSS antenna for U. FL connector
GSM antenna for SMA connector
Board sizes: 65 x 30,2 mm
Set includes
Shield with module SIM7000E
GSM antenna
GPS antenna
MicroUSB cable
Adapter SMA - u.Fl
Screw and spacers