Description
LiPo PWM is an extension for Raspberry Pi mounted directly on the GPIO connector of the minicomputer. The device has JST 2.0 mm 2-pin connectors for connecting the reachargeable battery Li-Pol or Li-Ion to power the Raspberry Pi. On the board there is a converter step-up TPS61232. The module has LEDs that indicate thepower status and low battery.The extension can not be used to charge the battery pack Li-Pol / Li-Ion.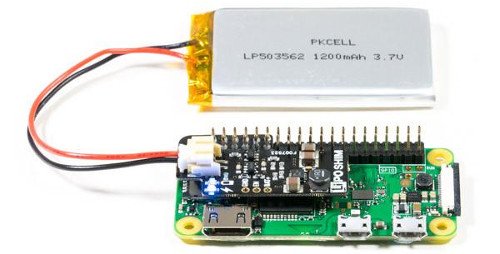 The subject of the sale is an extension only, minicomputerRaspberry PiandLi-Polcan be purchased separately.
Extension SHIM (Shove Hardware in the Middle) is a new type of boards, designed to be were small, inexpensive and convenient, and can be directly soldered to the GPIO connector of the Raspberyy Pi and used in conjunction with other HATs or pHATs. Their thickness is 0.8 mm (thickness of the board without mounted components).
Key features
Thickness of the board: 0.8 mm
Connector JST 2.0 mm 2-pin
Battery charge level indicator via LED
Provides constant current up to 1.5 A (15 uA at rest)
Warning of low battery level at 3.4 V
Automatic shutdown at 3 V to protect the battery
Output VBAT to+, GND and EN
Compatible with Raspberry Pi 3, 2 ,B+, A+, Zero, and Zero W
Requires soldering
The kit includes: LiPo SHIM, goldpin strap, rubber foot
The software prepared by the manufacturer is not working with Raspbian Wheezy