Product description: JustPi microSD memory card 32 GB 100 MB/s class 10 + NOOBs system for Raspberry Pi 4B/3B+/3B/2B
On a fast 32 GB microSD card, NOOBs software for the Raspberry Pi mini-computer has been installed in thelatest 4B version. The program allows you to install popular operating systems as soon as you insert the card and start the minicomputer. The software is available, among others: Raspbian, Pidora and XBM.
The video presents the capabilities of the latest Raspberry Pi 4B minicomputer.
What is the Raspberry Pi minicomputer?
The Raspberry Pi minicomputers are among the most popular in the world. They owe their fame to their price/performance ratio and their large community. The latest version of the tile -model 4B, comes in two versions: 2 GB and 4 GB of RAM. Raspberry Pi 4B Minicomputer stands out:
high-performance Broadcom BCM2711 processor- quad-core 64-bit ARM-8 Cortex-A72 1.5 GHz,
two microHDMI connectors- allow to connect two monitors,
Two USB 3.0 and 2 USB 2.0connectors - provide faster data exchange speeds from media than in the previous version,
USB C power connector- allows for current flow up to 3.0 A,
dual band WiFi- 2.4 GHz and 5 GHz, Bluetooth 5 / BLE,
Ethernet port with a speed of up to 1000 Mbps- with PoE capability,
40-pin GPIO-for connecting sensors,motorcontrollers, diodes, etc.,
microSD card slot-e.g. with Raspbian NOOBs installer fromRaspberry Pifoundation,
DSI and CSI connectors- to connectthe displayandcamera.
JustPi microSD memory card 32GB 100MB/s class 10 + NOOBs system for Raspberry Pi 4B/3B+/3B/2B
Micro SDHC/SDXC memory card dedicated for Raspberry Piseries of single disc minicomputers. The memory card has pre-loaded NOOBs software, which facilitates and speeds up the installation process of the operating system for Raspberry Pi series minicomputers. The card's capacity is32 GB- this allows you to store a large number of system files as well as user files such as images, documents, games and more. The card is 10th speed class and is equipped with a UHS-I interface.
Memory card with NOOBs software.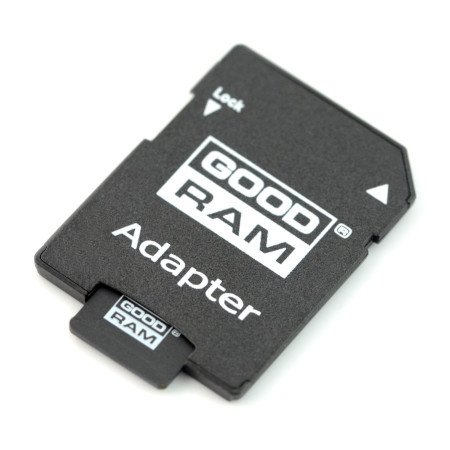 An adapter is included with the microSD card to place the cards in the SD card slot.
Micro SD memory card - "hard disk" in Raspberry Pi
The Raspberry Pi Minicomputer is equipped with all the electronic components necessary to function on a similar basis to a full-size desktop computer. What's more, the Raspberry Pi's computing power and other performance bring it closer to classic PCs. Actually, the only important missing piece of equipment in the "raspberry" is the storage for user files. Unlike regular computers, Raspberry Pi usesmicro SDcards. The justPi memory card has pre-loaded bootable software together with an image of the Raspbian OS and is characterized by high data read and write speeds.
Memory card parameters
Parameter
Value
The producer:
justPi
Capacity:

32 GB

Standard:

microSDHC / microSDXC

The interface:

UHS-I

Speed:

reading: up to 100 MB/s
record: from 10 MB/s

Dimensions:
15,0 × 11,0 × 1,0 mm
The weight:
0,4 g
Package dimensions:
103 mm (width) x 123 mm (height)
Weight in the package:
12 g
Power source:
Power supply from the device
Operating temperature:
-25°C to +55°C (recommended)
Storage temperature:
-20°C to +65°C (recommended)
Moisture:
30% ~ 85% (recommended)
File system:

exFAT (64 GB)

FAT32 (8, 16, 32 GB)

Warranty:
Perpetual