Product description: Pico Audio Pack - line output and headphone amplifier
An extension for theRaspberry Pi Picomodule. Audio Pack allows you to complement the functionality of Pico withaudio playback. The product usesa PCM5100A DACto transmit up to 32-bit audio via a 3.5mm line output, allowing connection to an external amplifier or active speakers. There is also a 3.5mm headphone connector on the board. The module allows sounds to be generated using code created on the Raspberry Pi Pico and fed into alo-fisynthesizer. The device can also be used as a sound card.
Raspberry Pi Pico
Raspberry Pi Pico is a unique item among Raspberry Pi products. It is equipped with a proprietary Raspberry PiRP2040chip. Pico can be programmed via microUSB port inC/C++ or MicroPython.
The presented Pico Audio Pack extension can only work with the C/C++ Pico SDK. MicroPython is currently not supported.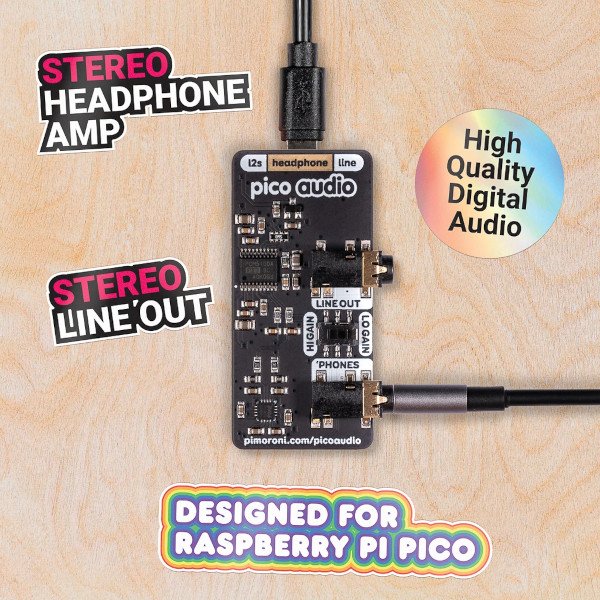 Pico Audio Pack.Raspberry Pi Pico has to be purchased separately.
Communication
Pin 12: I2S_DATA
Pin 14: I2S_BCK
Pin 15: I2S_LRCK
Additionally, pin 15 supports the Mute function, which can be used to mute the output
When using thesample codesprovided by the Raspberry Pi, remember the following notation defining the pins: #define PICO_AUDIO_I2S_DATA_PIN and PICO_AUDIO_I2S_CLOCK_PIN_BASE for pins 12 and 14
Pico Audio Pack Specification
Stereo PCM5100A Digital to Analogue Converter (DAC)
Stereo headphone amplifier
Stereo headphone jack socket - 3.5 mm
Stereo line out jack 3.5 mm
Headphone amplifier adjustment switch (low / high)
Dimensions including jack sockets: 53 x 29 x 11 mm