Description of Soldering station 2in1 hotair and grotto Zhaoxin 898D with a fan in flask
The station has two LED displays, from which the temperature of hot air and soldering iron, can be read. Adjusting the power of the fan is carried out via controller, temperature is set using the buttons in the range from 100 °C to 450 °C for hotair and from 200 °C to 480 °C for grotto soldering iron.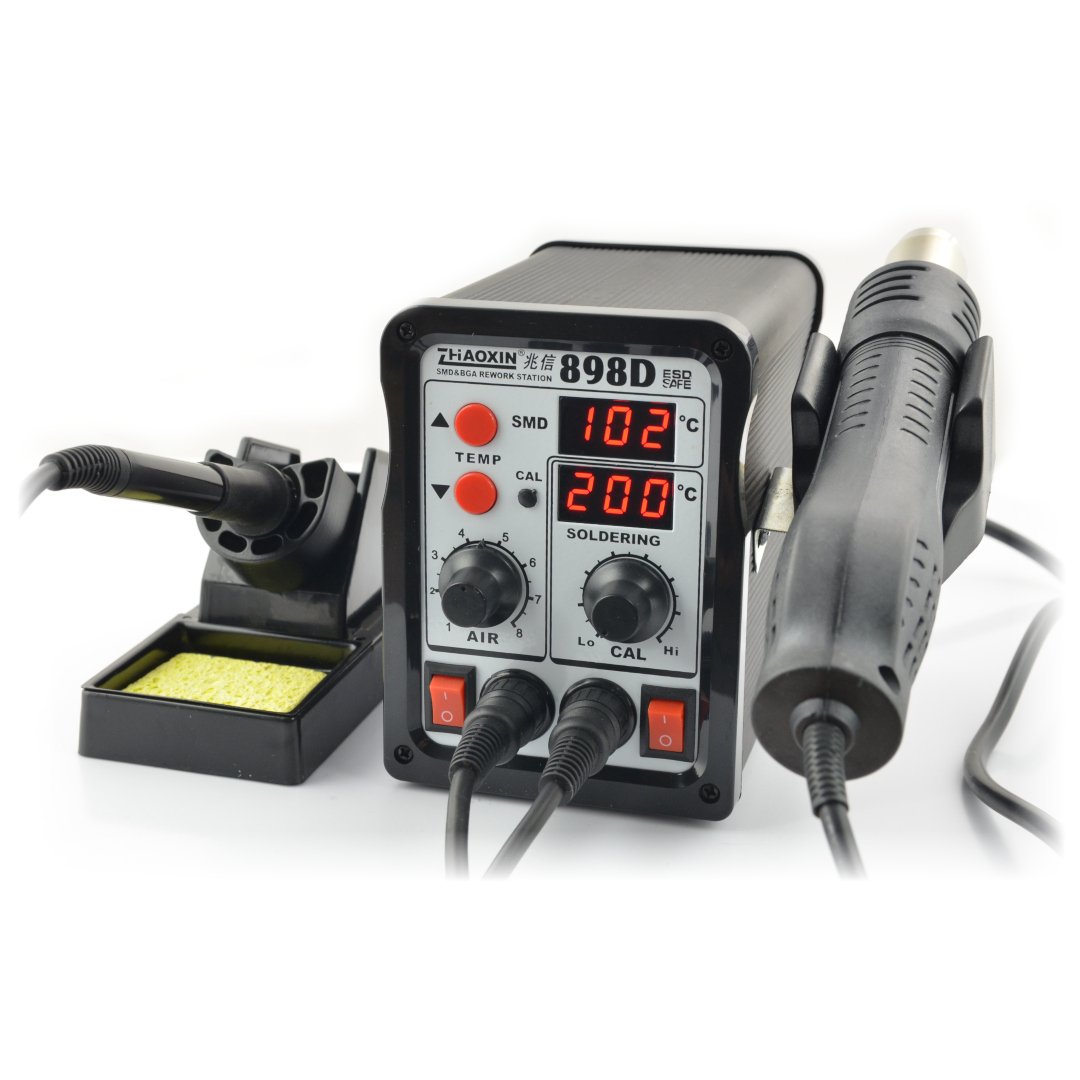 The device hasa sensor in the mount, thanks to which, after putting the flask away, the station is cooling the heating element during the time from 3 to 8 minutes, then, automatically switches the device tolow energy consumption(the so-called standby mode). This mode allows to save energy, prolong the durability of the heater and increases work's safety. Station remembers the last set temperature.
Stable and efficient air gust is realized througha fan located in the flask. It is driven by a brushless motor that provides high durability and reliability.

Specification: Soldering station 2in1 hotair and grotto Zhaoxin 898D with a fan in flask
Supply voltage: 230 V / 50 Hz (network)
Power:760 Watts
The stationis controlled by the microcontroller what ensures a high stability of work
The device has astandby mode
Remembers the last set temperature
The station has an ergonomic case
Station has ESD Safe system(protection from damages to the CMOS chips through the electrostatic charge)
 
Hotair Soldering Iron
Adjustable temperature of hot airfrom 100 °C to 450 °C
Temperature stability +/-1 °C
Power:700 W
LED display
Temperature setting via buttons
Smooth adjustment of blow of air using a knob
Air flowup to 120 l/min
The head size of the hot air 22 mm
Built-in inductive sensor in the flask (after putting, it goes intostandby mode)
The venting is provided via fan placed in a flask
 
Grotto Soldering Iron 
Regulation of the soldering tip's temperature from 200 °C to 480 °C
Temperature stability +/- 1 °C
Soldering iron's power : 60 In
Included
Station

898D Zhaoxin

Mount for the flask hotair
Set of nozzles:

round, with a diameter of 4 mm
round, with a diameter of 7 mm
round, with a diameter of 10 mm

Mount for the grotto flask along with a cleaning sponge
The grotto flask Zhaoxin
First run
After delivery of equipment, it should not be immediately started.
Equipment must remain about 12 hours at a room temperature before switching on.
All applications for damages caused by the premature commissioning of the equipment will be denied.
Attention
Heating elements (heaters) and the tips are not the subject to warranty either expressed or implied, and their replacement is chargeable.
Our range of accessoriesfor soldering: