Product description: justPi THT CF carbon 1/4 W 3,3 kOhm resistor - 30 pieces
The set consists of 30 pieces of resistors. The electronic components are designed for THT through-hole mounting. Resistance is 3.3 kΩ and tolerance is 5%.
Universal carbon THT resistors
In each of the devices powered from 230 V mains or batteries, there are electronic elements. They cooperate with each other thanks to their selection in terms of appropriate parameters and proper connection. Such elements include, among others, resistors which perform the function of limiting the flow of current, but can also be used to build signal amplification blocks.
The elements are sold in packages of 30 pieces.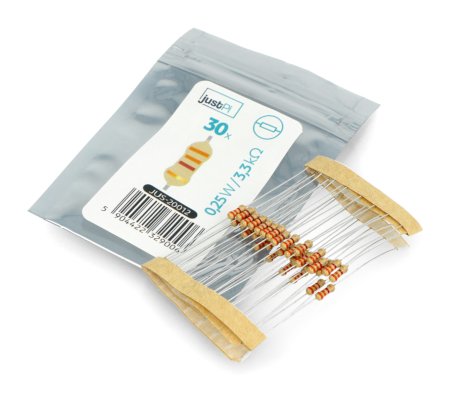 JustPi THT CF carbon 1/4 W 3,3 kΩ resistor - 30 pieces.
Technical specification of the resistor
Resistance: 3.3 kOhm
Power rating: 1/4 W
Tolerance: 5%
Mounting: THT through-hole