Attention!
The product has been discontinued. Check other products in category.
Description
The system controllerAtmega328Pcompatible with Arduino Uno. It provides control over sensors, servos and 2 DC motors.The system can be powered via DC connector with voltage of 6 - 9V via power adapter or the battery.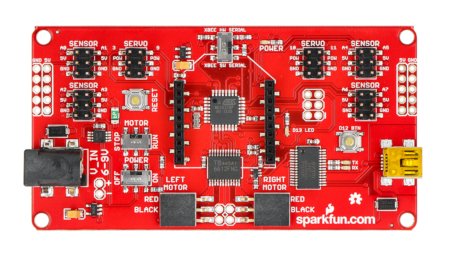 Main board is in full accordance with the popular moduleArduino Uno- to program the robot it is sufficient to install the Arduino IDE and a cableminiUSB. The manufacturer has prepared a library for Arduinoandthe user instructions. A sample program is available onGitHub.
In our offer we have also a complete RedBot Kit.
Specification
Controller compatible with Arduino Uno
Microcontroller: Atmega328P (documentation)
Double driver motorsTB6612- 13 V / 1 A (documentation)
Layout compatible with Arduino Uno is programmed via the mini-usb port using FTDI chip (documentation)
Port forXBee modules
2 connector for connection of DC motors
2 connector for connection of servos
4 sensors connectors
Connector DC power: 6 - 9 V
Board sizes: 95 x 50 mm
In our offer there is also a kit for making robot RedBot.