Product description: TFT LCD Display - 1,54'' 240 x 240 px IPS - with microSD card slot - DFRobot DFR0649
TFT LCDdisplay with a resolution of240 x 240 pxand a diagonal of1.54''. Manufactured by DFRobot and compatible with the most popular microcontrollers such as Arduino Uno, Leonardo, ESP32, ESP8266 or FireBeetle. It featureslow power consumption, has a wide viewing angle and supportsSPI(4-pin) andGDI: communication for convenient plug-and-play connection.
Special features
Works with Arduino UNO, Leonard or ESP32 microcontrollers
16-bit color depth RGGB565
Wide viewing angle and high resolution
Plug&Play GDI interface, which reduces the number of wires during connection
Built-in microSD memory card slot (card not included)
Set contents
TFT LCD display 240 x 240 px
Connection cable
FPC tape - 10 cm
Pinout description of the DFR0649 display
VCC- power supply pin with voltage from 3,3 V to 5 V.
GND- ground pin.
SCLK- communication interface clock line pin.
MOSI- data transmission pin; send - master / receive - slave.
MISO- data transmission pin; send - slave / receive - master.
CS- chip select pin.
RES- RESET pin.
DC- data / command select pin.
BL- pin responsible for display backlight.
SDCS- chip select pin for microSD card.
Compatible with Arduino
.Product Wiki pageis available on manufacturer website. It contains detailed user guide andlibraryfor Arduino IDE environment and sample porgram code.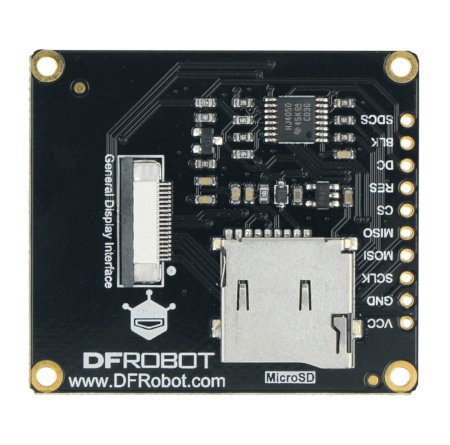 Equipped with ST7789 controller chip, it works with popular microcontrollers such as Arduino UNO, Leonardo or ESP32.
Technical specification of the display
Circuit: ST7789
Compatible with: Arduino UNO, Leonardo, ESP32, ESP8266, FireBeetle M0 (it is recommended to use Arduino IDE 1.8.10 and newer)
Supply voltage: 3.3 V to 5 V
Current consumption: 17 mA
Resolution: 240 x 240 px
Diagonal size: 1.54''
Communication interface: SPI
Brightness: 250 Cd/m2
IPS viewing angle: 80/80/80/80
Color Depth: 16-bit RGB565
Operating temperature: -30°C to 70°C
Standard mounting hole diameter: 2 mm
Dimensions: 44 x 39 mm
Weight: 19 g