Specification
Supply voltage: 4.5 V to 28 V
Continuous output current per channel: 2.6 A
The maximum short-term current per channel: 5 A
PWM frequency: up to 20 kHz
Protection from incorrect power supply attachment
Designed for Arduino connectors
The possibility to power Raspberry using an optional controller (not included)
The Arduino library for easier maintenance of the module
Dimensions: 51 x 48 mm
Weight: 11 g (without connectors)
Description
The module is based on two TB9051FTG systems, it lets you control the motors with supply voltage of up to 28 V and continuous current consumption of up to 2.6 A. The driver withstands seconds of jumping current up to 5 A. The speed of rotation can be controlled by the signal PWM.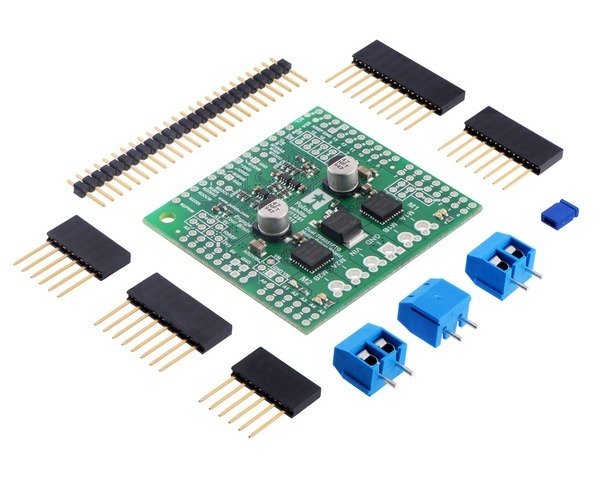 Board requires self-soldering.
In conjunction with Arduino, using a specially prepared libraries, you can easily control the speed and direction of rotation of two DC motors. Form and pins of the board allow for direct connection to minicomputer, as shown on the pictures.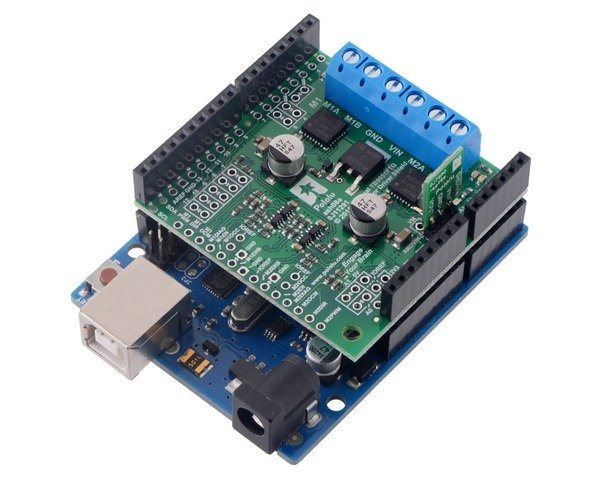 Basic functions
Automatic current limit which helps to avoid overheating and shutdown
The output voltage, which enables to check the current consumption (500 mV / A, works when the bridge H is active)
LEDs signaling the motor's work
The module can provide power directly to the Arduino or through an additional module, for example, the converter D24V10F5
The mapping of pins can be changed if the default is not needed
The second access to most of the pins via the pins on the left side of the module
Open soldering point for each driver in the bottom of the BOARD
Protection against reverse polarity