Product description: FORBOT - Arduino kit
The FORBOT set is dedicated to electronics and programming enthusiasts who want to learn the basics of working with the Arduino platform. The kit provides everything you need to start your adventure with microcontrollers. The set includes the module - Arduino Uno main board and basic electronic components : LCD display with connectors, breadboard , wires , diodes , resistors and many others.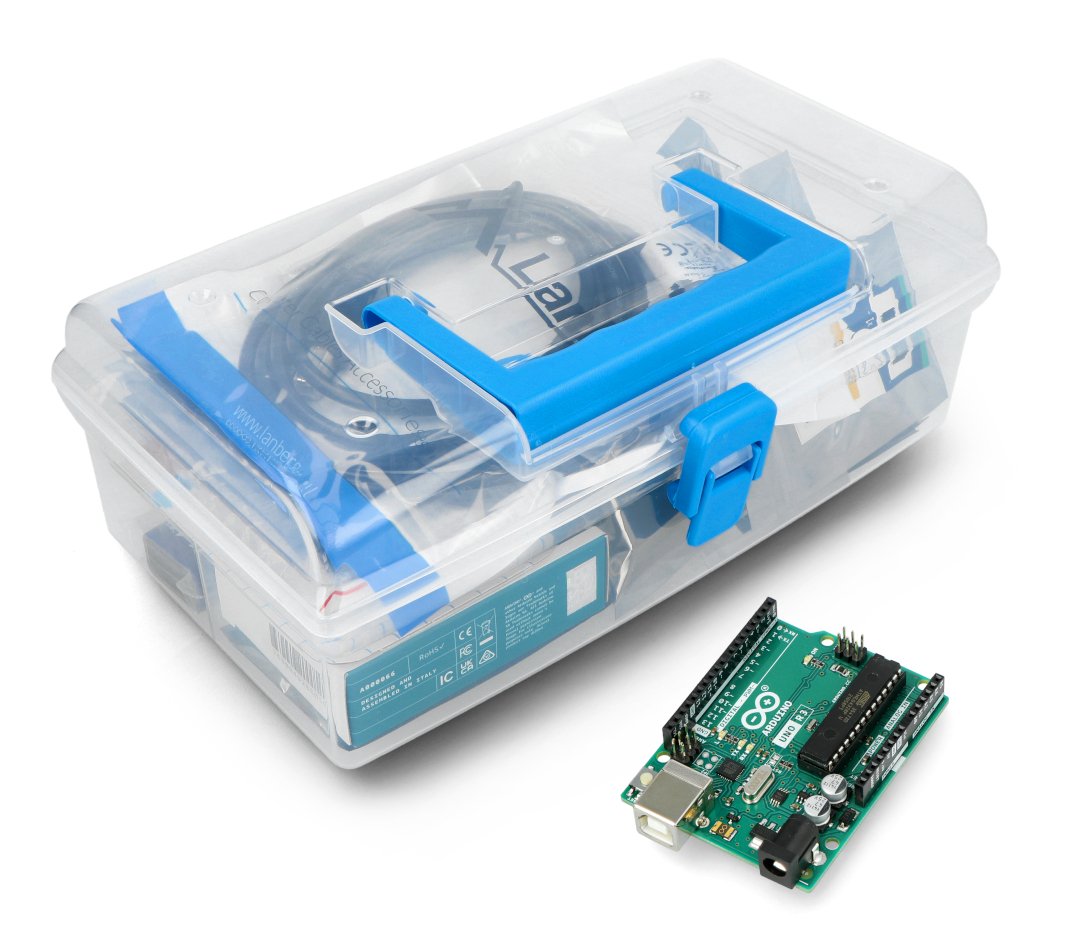 A set of elements with the module Arduino Uno - FORBOT.
Benefits of purchasing the FORBOT set
Comprehensive : Everything you need to get started with Arduino in one package.
Quality : components that guarantee reliability and durability.
Education : while prototyping, you will easily understand the basics of working with microcontrollers.
Start your adventure with electronics and programming with the FORBOT set together with the Arduino board! Ideal for beginners, students and hobbyists who want to explore the secrets of microcontrollers.
Kit contents
no
Photo
Name
1
Arduino Uno - original module with Atmega328 microcontroller.
2
Contact plate 400 holes - plate with separate power lines for creating electronic circuits.
3
Male-male connecting cables - 20 pcs. - allow you to create connections on the breadboard and between the board and Arduino.
4
9 V battery with a dedicated latch (so-called clip).
5
Through-hole resistors : 330 Ω, 1 kΩ (10 each).
6
Mounting potentiometer - connected to the analog leads can be used as an element of the user interface - a simple knob.
7
5mm LEDs : green (5 pcs), red (5 pcs), yellow (5 pcs), blue (1 pcs).
8
Two photoresistors - sensors for measuring the intensity of the incident light, will allow, for example, to detect whether the room is dark or light.
9
Micro modeling servo .
10
16x2 LCD display with connectors.
11
L293D motor controller - H-bridge

for

controlling the direction and rotational speed of two DC motors.
12
Distance sensor - ultrasonic HC-SR04 operating in the range from 2 cm to 200 cm.
13
Buzzer with generator - powered by 5 V, a simple generator of sound signals.
14
5 V voltage stabilizer with capacitors.
15
Tact-switches - 5 pcs.
16
USB cable to connect Arduino to the computer.
‌