Description: Arduino StarterKit from scratch - with Arduino Uno  module
The kit includes the base plate Arduino Uno with a set of elements used in the video course "Arduino from scratch". In addition to the electronics, the kit also includes achassis of Magician Chassis robot with motors and matched to them wheels.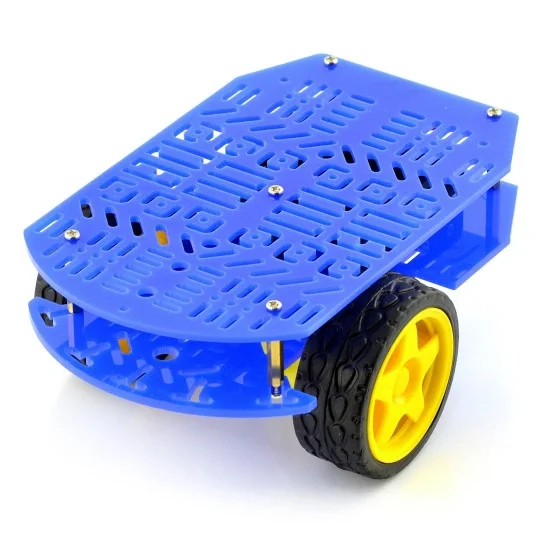 Special video course is designed for novice Arduino users. Includes practical exercises on electronic circuits, the performance of which does not require a soldering iron. The author shows how to create the devices based on the elements contained in this set.
Video

The trailer of course "Arduino from scratch".
The set consists of:
L. p.
Photo
Description
1
Arduino Uno- the original, newest module with the Atmega328 microcontroller.
2
 
Breadboard 830 fields- a large plate with separate power lines to create electronic circuits.
3
A set of LEDs 5 mm (30 PCs)- 10 PCs. of red, green and yellow elements.
4
Resistors220 Ω 10 k

Ω,

10 pieces.
5
Ceramic capacitors 100 NF- 10 pcs.
6
Buttons, type tact-switch - element introducing data for Arduino.
7
The L293D motors driver- bridge that allows you to control the direction and rotary speed of two DC motors.
8
Temperature sensor TMP36GT9Z - popular, easy to use analog thermometer.
9
Buzzer without generator- powered with voltage of 5 V, a simple sound signal generator.
10
Servo SG-90- easy to use servo, type micro.
11
Chassis of the Magician Chassis robot - chassis platform with the engines and matched to them wheels
12
LCD display 16x2- popular alphanumeric 

display

with the available library for Arduino.
13
Mosfet N-type IRF520 THT- unipolar transistor with high current of drain that allows you to control devices with higher power consumption, its parameters are 100 V / 9,2 A / Rdson 0.27 Ohms.

14

Strap goldpin 1x40 male- raster 2.54 mm.
15
9 V batterywith a special connector.
16
Set of connecting wires: 40 x male-to-male, 40 male-to-female and 40 female-to-female.
17
Rotary potentiometer, 10k linear- similar to buttons, connected to analog outputs, it can serve as a user's interface's element - simple knob
18
USB cableto connect the Arduino to the computer.
Additional modules:
The items listed below are not included, they can be purchased separately in our store: