Product description: Kitronik - set to create intelligent clothes for BBC micro:bit
A set designed to create projects related tointelligent clothing.It allows to create glowing patterns on clothes, and thanks to the use of crocodile connectors andconductivethreads itdoes notrequire soldering.Specially designedmodules with LEDs facilitate sewing them to the fabric. The set is compatible withBBC micro:bitmodules, so you can create creative, glowing patterns on clothes, bags or backpacks.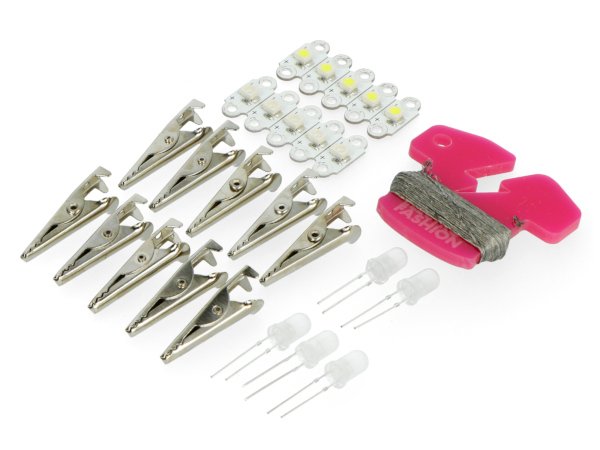 Contents of Kitronik Electro-Fashion for BBC micro:bit.
Additional materials
The manufacturer providesadditional materialsrelated to intelligent clothing design.
Main features of the Kitronik kit
The set containsspecially selected elements, which allows you to start creating a design of intelligent clothes immediately after unpacking. As many as 6 meters of conductive threads, 10 crocodile connectors and 15different types of LEDs allow youto create interesting patterns that will distinguish our clothes or bags.
The set includes:
5x white LED module
5x red LED module
5x standard white 5 mm LEDs
10x 28 mm crocodile connector
6 m of conductive thread
Specification of the Smart Clothing Creation Kit
5 mm LED:

Lighting angle: 60°
Lens type: matt (diffusion)
Light intensity: 700 mCd (for 20 mA)
A drop in voltage: 3,1 V

LED modules:
Lighting angle: 120°
Lens type: Transparent
The light:

Red LED: from 300 mCd to 450 mCd (at 20 mA)
White LED: 1600 mCd to 1800 mCd (for 20 mA)

Power supply voltage: 3 V

Module dimensions: 15 x 6.5 x 2.7 mm