Product description: DFRobot Gravity - sensor connection cable for Arduino - 4-pin - I2C / UART - 50 cm - 10 pcs. - FIT0773
Connectioncable equipped withGravityseries connector. Produced byDFRobot, it's designed to connect the sensor to the main module - Arduino. It supports two most popular communication interfaces -I2Cbus andUARTprotocol. The maximum voltage should not exceed50 Vand the current should not exceed 1000 mA. The set includes 10 pieces ofcable.
Components sold in packs of 10 pieces.
Pinout description
I2C bus:

red wire: power line - VCC
black wire: ground line - GND
Blue wire: Bus clock line - SCL
green wire: bus data line - SDA

UART bus:

red wire: power supply line - VCC
black wire: system ground - GND
Blue wire: TX
green wire: RX
Technical specification of the cable
Type: sensor connection cable
Purpose: for Arduino
Connector type:

connector one: Gravity
second connector: 4-pin JST female plug

Interfaces supported: I2C bus / UART
Maximum voltage: < 50 V
Maximum current (current): < 1000 mA
Cable length: 50 cm
Pin Raster: 2.54 mm
Number of pieces per set: 10 pieces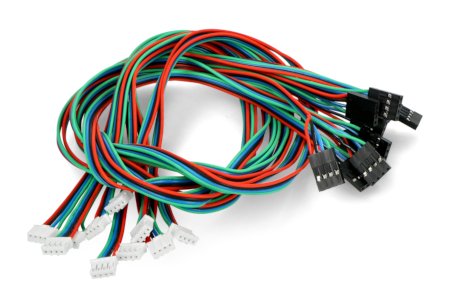 Gravity connector significantly improves the connection of peripheral devices with main modules.