Product description: JRK G2 24v13 - single channel USB motor controller with feedback 40V/13A - Pololu 3147
Extremely simplemotor controllerwith feedback support belonging to the second generation ofJRKcontrollers- JRK G2. Provides easy speed or position control(but not for both simultaneously). Available communication interfaces:USB,TTL,I2C, analog and radio. Supply voltage isfrom 6.5 V to 40 Vand continuous current up to 13 A.
Technical specification of the controller
Supply voltage for motors: from 6.5 V to 40 V
Continuous current per channel: 13 A
Maximum PWM signal frequency: 20 kHz
Number of channels: 1
Connector: microUSB
Interfaces: USB, serial TTL, I2C, RC servo, analog voltage
Protection against reverse connection ofpower supply
Dimensions (without connectors): 36 x

30

x 11 mm
Weight (

without connectors)

: 6.5 g
The kit requires simple soldering of basic electronic components.

Features of the motor driver from Pololu

Easy open or closed loop control of one DC motor
5 control interfaces

USB: direct connection to the computer
Serial TTL: works with 5 V, for connection to a microcontroller
I2C: for connection to microcontroller
Radio signalfor connection to RC system
Analog voltagefor use with a potentiometer or pad

Feedback options

Analog voltage; 0 V to 5 V - for closed loop system
Frequency:for speed control using pulse counting
None: for open loop
(the controller does not support quadrature encoders)

20 kHz ultrasonic PWM - silent operation (5 kHz can also be set)
Simple control and calibration using dedicated software
Configurable:

PID coefficients
Maximum current
Maximum PWM signal filling
Maximum acceleration and deceleration
Fault response
Input calibration for analogue and RC control

CRC error detection
Reverse polarity protection
Firmware upgradeable
Pinout description of JRK G2 24v13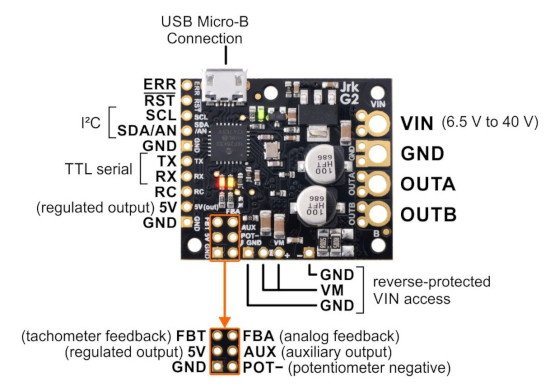 Comparison of JRK with the new generation - JRK G2
The new G2 family has many improvements over the older JRKs. The JRK G2 drivers support higher operating voltages and higher currents, yet are smaller than their predecessors. Other features:
Hardware current limiting - the controller limits the motor current if it exceeds a set threshold
More accurate speed control at low frequencies
I2C interface for increased controllability
Possibility to measure VIN voltage to monitor power supply or batteries
MicroUSB connector instead of miniUSB
Speed reduction limitation (JRK first version had only acceleration limitation)
PID coefficients can be changed live via UART, I2C or USB
The JRK G2 controllers are software compatible with the older version, so there is no need to replace the control application.