Product description: High-Power Simple Motor Controller G2 18v15 - 30 V / 15 A motor controller - assembled - Pololu 1362
A single-channel powerful DC motor controller. Can be easily programmed viamicroUSBconnector anddedicated application. Continuous current per channel is15 A,motor supply voltagefrom 6.5 V to 30 V, The module has5 control interfaces: USB, TTL serial interface, I2C, analog voltage (potentiometer) and RC radio control. The device has the ability tolimit the motor currentandsoldered connectors.
The controller belongs to a series of Simple Motor Controllers, characterized by high power and small size to facilitate the use in various projects. Additional advantage is the many supported interfaces and comprehensive settings. The included software allows in a very simple way to use the module. Just connect it directly via microUSB port of your computer.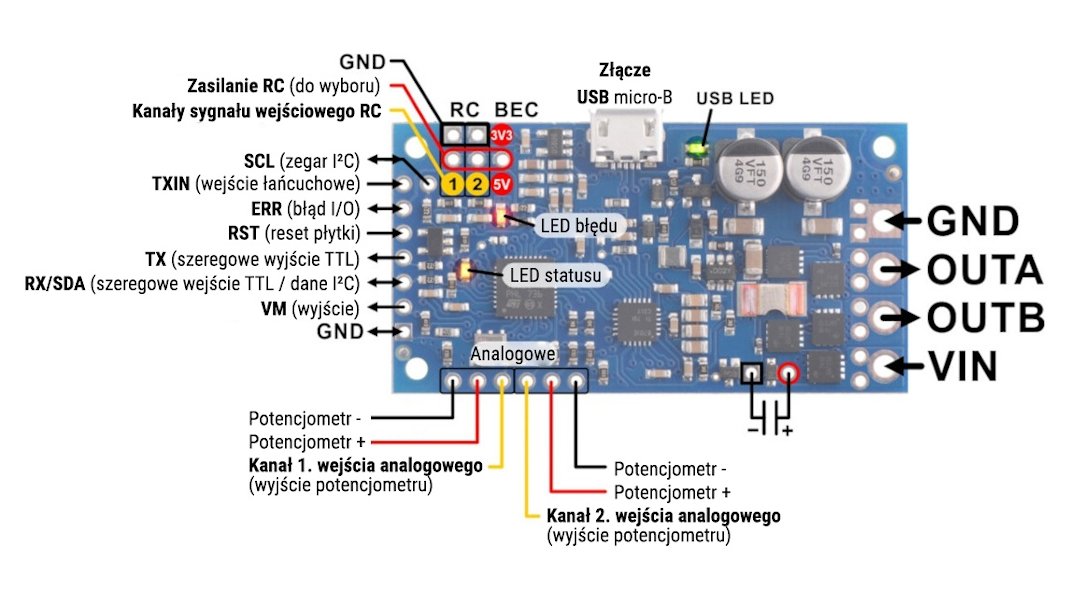 Pinouts High-Power Simple Motor Controller G2 18v15
Communication High-Power Simple Motor Controller G2 18v15
SMC G2 series controllers can communicate through five interfaces:
USB port of the computer
USB interface 12 Mb/s
Optional protections (CRC check, timeout)
Serial communication
Communication with the computer via virtual COM port
Automatic baud rate detection (from 1200 bps to 500 kbps)
SSC and ASCII protocol support
Optional communication delays
TTL voltage:

Transmit Tx: from 0 V to 3.3 V
Receiving Rx: 0 V to 5 V

Optional protections (CRC check, timeout)
I2C
Compatible with I2C bus with voltage from 1.8 V to 5 V
Remote Control - model instruments
Frequencies from 10 to 333 Hz
Pulse resolution: 1/4 µs
Adjustable parameters for RC signal
Two channels
Receiver can be powered from BEC (BEC jumper)
Analogue interface
Resolution: 12 bits (0.8 mV)
Voltage range: 0 to 3.3 V
Two analogue channels
High-Power Simple Motor Controller G2 18v15 specifications
Number of channels: 1
Supply voltage: 6.5 V to 30 V
Operating voltage of the logic part: 3.3 V (inputs tolerate 5 V)
Continuous current per channel: 15 A
PWM frequency: up to 22.5 kHz
Current limit setting possible
Current detection
Supported interfaces:

USB
TTL serial interface
I2C
Analog voltage
RC radio signal
Protections:

against reverse connection of supply voltage against too low supply voltage
Short circuit
Dimensions: 53 x 28 mm
Weight: 12.5 g
Included module with soldered connectors
Additional features of G2 SMC chips
Adjustable maximum acceleration and deceleration
Adjustable start-up and maximum speed
Optional safety check
Input calibration and adjustable step scaling for analog and RF communications
Under-voltage cut-off for battery protection
Adjustable threshold and over temperature response
Adjustable PWM frequency from 1.13 kHz to 22.5 kHz
Built-in LED and error output
Firmware upgradeable
Overview of SMC G2 High Power controllers