Product description: Fermion - ADKey Board - 10 keys tact switch matrix - DFRobot DFR0792
A board in the form of a matrixkeyboardmanufactured by DFRobot. It has10 tact switch buttons, with attached overlays in two colors - 10 pieces ofwhiteand 10 pieces ofblackoverlays. The matrix can be used to controlDFRPlayer ProorDFPlayerMini. It is easy to integrate with various components, and can be used to extend the controller board with 10 additional buttons using only one analog port. The module operates from3.3V to 5V. The keyboard has square shape with dimensions of 40 x 40 mm.
Product compatible with Arduino
The manufacturer provides a detaileduser guidethat makes it significantly easier to start working with the matrix. Among other things, it contains a description of the leads and a diagram of connections with cooperating boards.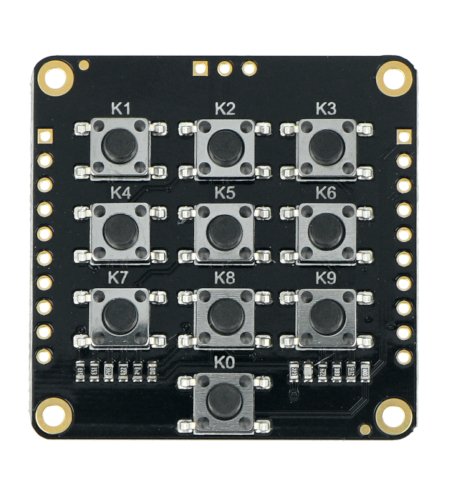 Fermion - ADKey Board - 10 tact switch matrix.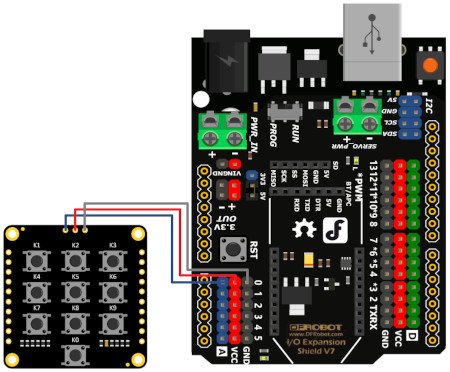 Connection diagram of the board withDFRduinoboard - Arduino derivative.
Leads description and connection diagram
Thematrix has leads in the form of solder fields, to which you should solder includedgoldpin connectors. You should connect the leads according to the following dependencies:
GND - system ground
VCC - power supply pin within the range from 3.3 V to 5 V
A - analog port to control the matrix
K1, K2, K3, K4, K5, K6, K7, K8, K9, K0 - button pins
In our offer you can also find othermatrix keyboardswhich are compatible with Arduino. We encourage you to familiarize yourself with available range.
Technical specification of the module
Type: matrix with buttons
Module's power supply: from 3,3 V to 5 V
Number of buttons: 10
Buttondesignations: K1, K2, K3, K4, K5, K6, K7, K8, K9, K0
Button dimensions: 6 x 6 x 7 mm
Module dimensions: 40 x 40 mm
Kit contents
Fermion: ADKey Board - matrix of 10 buttons - 1 pc.
Button caps - black - 10 pcs.
Button caps - white - 10 pcs.
Goldpin 1x3 strip - 2,54mm pitch - 1 pc.